EVER CHANGING REQUIREMENTS NEED ADAPTABLE TOOLS
All too often, audio monitoring units can fail to satisfy the requirements of both Engineers and Operators. A well-equipped, feature rich and powerful audio monitor designed for the most demanding user or application can often prove too daunting or unnecessarily difficult to use for those who simply need to select and hear the audio they need.
When production staff, many of whom may be freelance, prepare for a show or event, they often have little time to invest in familiarising or re-training themselves with the equipment they are expected to work with. An audio monitoring platform designed to allow for different levels of interaction, control and working preference, allows production staff to focus on what matters most, producing the most compelling content.
From the simplest of operational modes, offering no audio level metering or measurement, through to the most comprehensive audio monitoring toolset designed for the most demanding audio engineer, an audio monitoring platform that can adapt to the needs and skillset of the user, provides customers with the kind of flexibility that is often lacking in traditional audio monitoring products.
Every user, production, environment, and application is different, meaning that universal or 'one size fits all' audio monitoring tools simply cannot provide the versatility required by todays customers.
Production requirements are becoming ever more challenging, with new and more complex shows and events making it ever more difficult for customers to make the right investment in equipment and technology. An audio monitor that satisfies your requirements today, may not satisfy your requirements in the future, so an audio monitoring platform whose functionality can adapt and grow over time, through software upgrades and optional licenses serves to protect your investment and allows for the same audio monitor to be re-deployed to serve different applications and environments.
Building solutions that enable customers to perform tasks with ease and to the highest quality sits at the heart of TSL. This philosophy not only feeds our control platform but is now extending to our audio solutions, allowing TSL to move ''beyond the box" and provide new and exciting ways of monitoring audio. Optimal performance is our customer's main concern. An operator or engineer managing incoming lines will have different audio monitoring requirements to an operator or engineer working in a QC environment, which will then differ again from an operator or engineer in a Studio or OB Truck. An audio monitoring unit that can be easily switched between different modes of audio measurement, presentation and control can serve all operators and engineers equally, even though their requirements will clearly be different.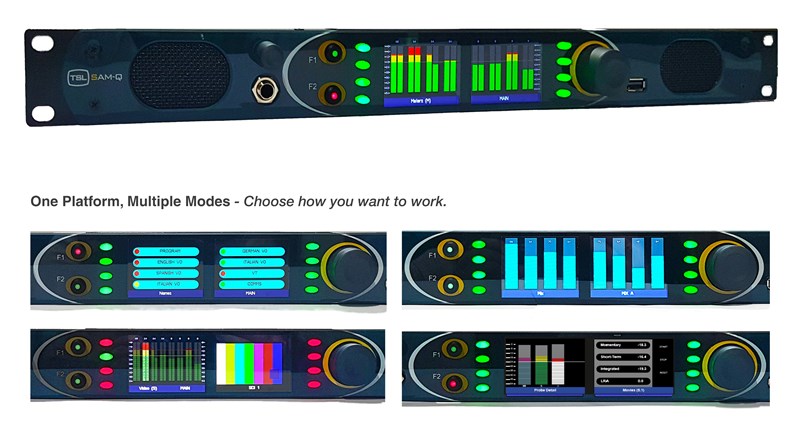 Adopting a licensed approach, means that customers need only purchase the audio monitoring functionality they need. Should audio monitoring requirements change, additional licences can be purchased as required to accommodate them, helping to protect a customer's existing investment.
At TSL's core, remains the desire to maintain technical excellence and to keep pace with the latest technologies and industry standards. Any new platform from TSL comes complete with a roadmap designed in response to today's rapid changing environments. Of course, maintaining a user-friendly experience, regardless of the advances in underlying technology is paramount to customer satisfaction.
In this world of ever-changing requirements, TSL will provide customers with new and more inventive audio monitoring solutions. Not all customers wish to visualise, measure or control their audio in the same way, so the ability to visualise, measure and control an audio monitor based on the task at hand is becoming more important than ever before.