Flex Control Network Overview
Flex is a distributed network made up of three very powerful device nodes – the network control processor, button panels to trigger commands and data conversion solutions to expand interface capabilities of any system.
The real magic of Flex is demonstrated when it works alongside existing control and media platforms, whether they be Evertz Magnum, Lawo VSM or EVS Cerebrum.
Key Functionality Includes:
Protocol Conversion
Scheduled Actions
Combutorial Logic
Manual Overrides
Remote webkeys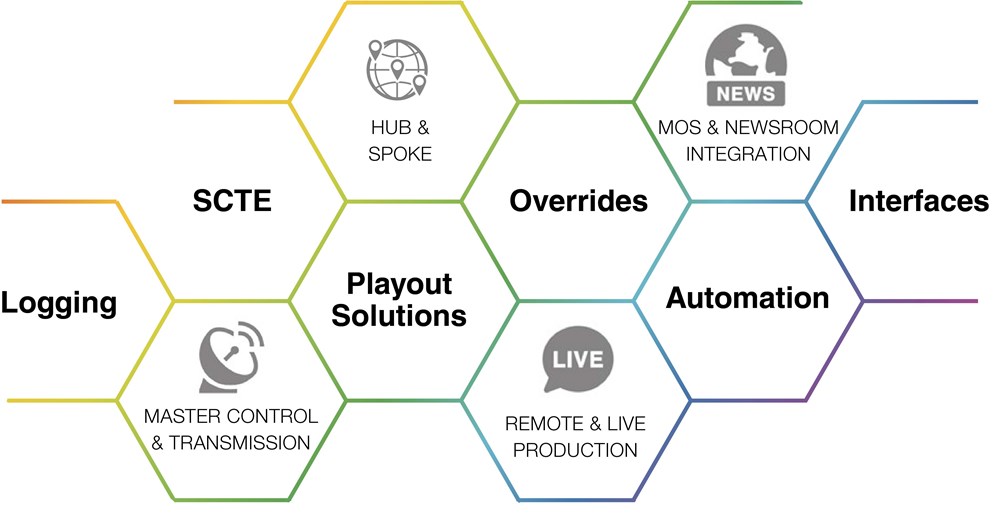 The Business of Flex
Flex Control Network provides a complete control and connectivity infrastructure that:
Integrates with existing equipment, protecting equipment investments
Incorporates new equipment and technological advances to streamline processes and increase efficiencies, minimizing expenses and increasing profitability
Maintains tried and proven existing workflows and integrates new workflows that support time-accurate delivery of quality product, maximizing staff productivity and training efficiency
Improves system reliability, supports system expansion, and simplifies system maintenance while minimizing short-term and long-term cost of ownership
Fits your application and budget
Gives you peace of mind − no more custom boxes, hand-built relay systems, one-off kluged solutions, or custom software
Flex Control Network can be designed and configured for your specific needs.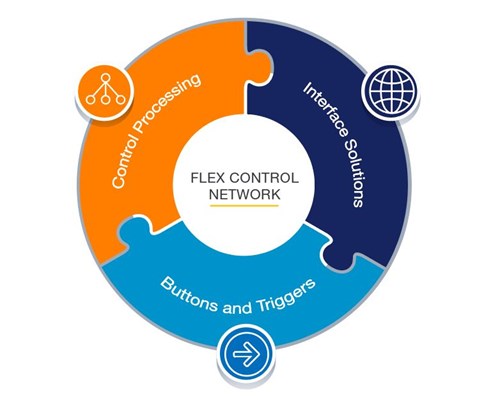 Control Your Whole Facility From Anywhere
Manage any device via RS232, RS422, GPI/O, SNMP, UDP, TCP/IP, LAN, WAN, VPN, and Internet. Because you can control all your equipment from the same room, between floors, across campus buildings, or around the world, Flex links geographically separated facilities and connects countries
This exclusive point-to-point and shared control structure permits easy redistribution of your broadcast, production, or automation workload for staffing flexibility. Operators and supervisors can manage the same device, and quickly and easily change control locations for one-time, special, and remote events.
Flex Control Network is deployed at leading broadcasters and production facilities around the world, including ABC, CBS, FOX, NBC, HBO, CNN, TURNER, ESPN, Fox News, MLB Cable, TV GLOBO, RAI, NBC Olympics, and more.

POWERED BY THE GTP-32 CONTROL PROCESSOR
The GTP Processor drives the interfaces between the control system and existing newsroom systems, offering shared control between positions and facilities. The GTP-32 allows you to set up secondary events and triggers that can be configured to make your systems even more powerful.

VIEW PRODUCT SPECS
---
GTP-V1
Virtual & Cloud-based Control
---
GTP-30
IP Integration with Network Control
---
GTP-31
Facility Transition with IP & Serial control