Addressing the Challenges of IP
Our solutions including the PAM and MPA1 ranges have been developed specifically to address the requirements of customers monitoring uncompressed ST 2022-6 and ST 2110 sources, with NMOS ISO-04/05 device discovery and configuration management.

Our MPA1 range also supports ST 2022-7 Seamless Protection Switching.

MPA1-MIX-NET-V-R
MPA1-MIX-NET provides the known-and-loved MPA1-MIX functionality for ST 2110 AoIP networks, with NMOS IS-04 and IS-05 support.
8 dedicated rotary controls for source level adjustment
Front panel display of audio levels, complete with pan/balance information
Support for ST 2110-30 Level A, B and C (1ms and 125μs packet time, stream size up to 64 channels)
Supports ST 2022-7 Seamless Protection Switching (Level A,B.D)
View Full Product Specs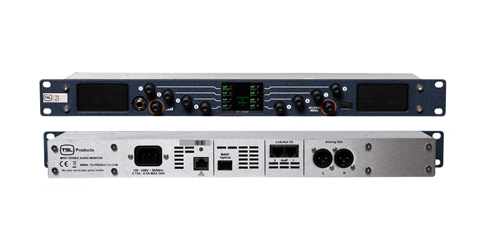 PAM-IP: ST 2022-6 and ST 2110 Made Easy
Video Confidence Monitoring - view ST 2022-6, ST 2110-20 and SDI video content directly on the front panel of the PAM-IP or via its dedicated SDI output router.
Comprehensive Loudness Monitoring - check loudness levels for ST 2022-6, 2110-30, SDI, AES and Analogue audio sources.
Dolby Decode - monitor Dolby E®, Dolby Digital® and Dolby Digital Plus® audio sources, complete with comprehensive Metadata analysis.
External control protocols - Customers can manage PAM-IP ST 2022-6 and subscriptions using In-Band (via NMOS IS-04/05 or EMBER+ protocols)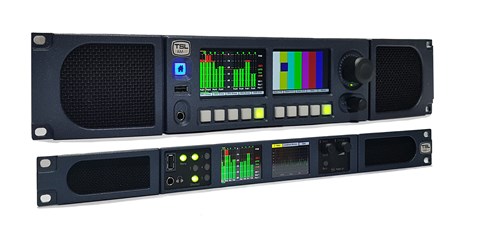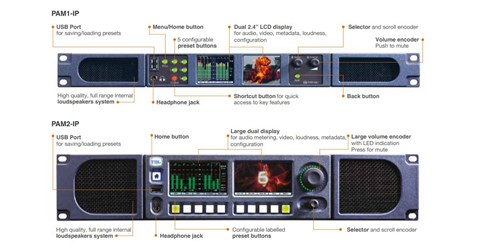 ---
Technical Specs
Equipped with 2 x 10Gig/E SFP+ ports
Supports uncompressed ST 2022-6 and ST 2110
Supports IGMP v3 for Multicast 'join/leave' requests
Recall of stored Presets also includes Multicast 'join/leave' request
Fully compatible with Audinate's Dante Controller
Control API available
Dolby Option available
PAM-IP Remote Dashboard
See system health information such as software/hardware version information, temperatures and fan speeds as well as diagnostic information such as PTP lock status, IP packet counters and multicast addresses and port numbers of the essences currently being subscribed to.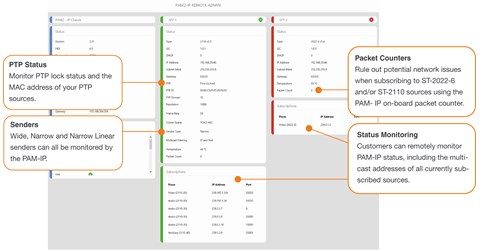 MPA1-SOLO-IP
Whether monitoring redundant SDI infrastructures or redundant IP networks, the MPA1-SOLO-IP provides confidence
monitoring without compromise.
Helps make the transition to IP seamless, providing peace of mind and ease of use in even the most demanding environments.
Features 2 SFP cages the MPA1 Solo IP allows redundant connectivity to ST-2022-6 / ST-2110 IP networks, in addition to SDI, AES and Analogue inputs also allowing for hybrid monitoring environments.
Tight integration with your control system is made possible through SNMP, Ember+ and NMOS.
View Full Product Specs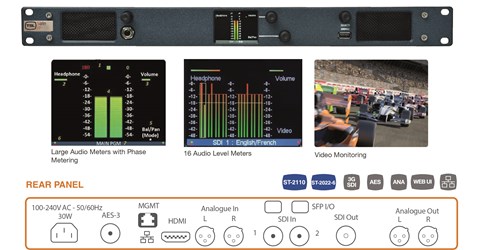 From the Insights Hub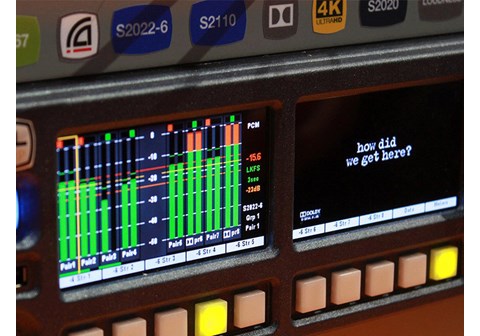 Audio and Video Monitoring for IP Networks
Download the Free Ebook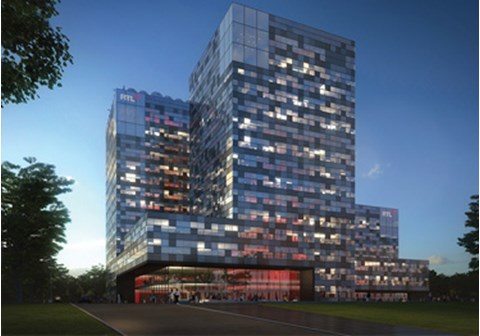 PAM-IP at BCE Luxembourg
Read the story here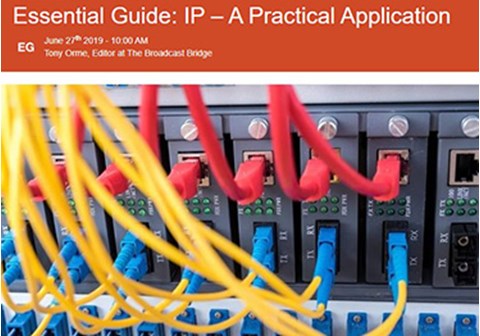 Essential Guide - IP - A Practical Application
Donwload your copy here >