Fit For Function
With a full range of controllers, panels, functions and features, customers can take full ownership of their systems from production to playout.


OB Trucks
Simply and efficiently configure broadcast trucks, whilst sharing and managing resources between your systems to save time, space and money.
Explore our solutions for OB Trucks here
Device Management & Control
Camera assign – Assign camera names to CCUs effortlessly.
Camera Controls - Pan, tilt, zoon, white balance controls
Joystick multiplexing – Use fewer RCPs to control multiple CCUs and assign cameras to RCPs on the fly.
VTR Control - manage VTRs with single or ganged control, from basic transport control to cue points, slow-motion control and two-machine cuts editing.
Infrastructure Control
Tally management – Complete scalable tally solution across multiple OB trucks.
Video/audio routing – Routing control over video and audio routers. Single cross point, associated sources, and salvos.
Facility Expansion - Maximise up-time and manage variable demand by simply docking trucks to larger broadcast facilities seamlessly as needed. Delegate control and information while minimising setup time.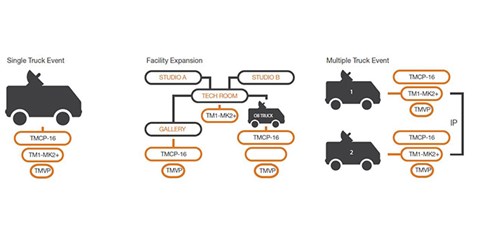 Remote & Live Production
Remotely controlled devices and systems across multiple locations will save on cost and keep staff working efficiently.
Studio Preset Management (Save/Recall) – Save and recall complete studio configurations including camera `positions/parameters, lighting scenes, routing tables and more.
Studio Delegation – Assign studios to PCRs with associated routing, tally and control following assignment.
Video Routing (confidence monitoring, branding) – Routing and naming control, single cross-point, associated sources, and salvos for studio presets.
Tally Management - Complete scalable tally solution across multiple routers, switchers, cameras and multiviewers.
Audio Control (Mic gain, IFB, routing) – Control over audio routing and channel controls for remote control, studio preset set/recall and back-up control.
PTZ Camera Control – Complete control over PTZ (Pan Tilt Zoom) cameras for granular control, preset set/recall and tally control.
Lighting Control – Set and recall scenes of a lighting mixer and adjust levels via hardware or virtual control panels.
VoIP Control (Dial/Make/End call) – Use virtual panels to dial, make and end VoIP calls.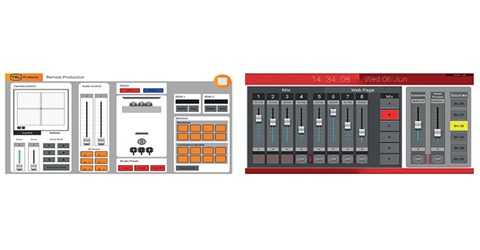 InterTruckability

Quickly and simply interact to share all device information, managing names, control and tally across systems. Signal patching is reduced as tielines become dynamic, naming problems are eliminated and logic patching is performed virtually.

Production Control
Centralise resources across the production chain and take control of key functions with a secure and redundant system built on automated logic.
Delegation and Control Routing - Delegate exclusive control by schedule or on-demand. Device control follows production from room to room.
Single Button Set-up (Programme Presets) – Set/recall complete routing tables, equipment configurations and scenes to allow one button studio setup for specific shows, reducing setup time and complexity.
Emergency Cut-Bus Facility – disable vision mixer output, control change over and provide control of router cuts and provide ECB tally management.
Studio Delegation - Assign studios to PCRs with associated routing, tally and control following assignment.
'One Touch' Studio Fail Over – Push or pull studio setup across to different PCR in case of control room malfunction.
Production Automation - MOS integration with ENPS and iNews to simplify your news production and take control over the critical devices you depend on.
Video Server Playout - Easily manage a single video server channel up to 32 playout channels.
Integrate control for news-based playouts with a robust MOS Gateway system that interfaces to ENPS, iNews and others for reliable and cost-effective integration between existing video servers and newsrooms systems.
Simplify newsroom workflows and provide access to content for all those involved in the production process.
Control and automate tasks that take up precious production time.
Keep stories and associated visuals in sync.
Help control room staff focus their attention on content and production value.
Set up secondary events and triggers to make your system more powerful.
Find out more >


Master Control and Transmission
Support network growth, ageing systems and workflow gaps or interruptions to local programming and breaking news.
Hub and Spoke - give local operators control over which source is routed to air and access & control content for any, or all local market outlets.
Automation Playout & Ingest - Fast, simple and reliable control with scheduled actions and primary, back-up or tertiary automation.
SCTE - break into the affiliate's programming, should national or regional coverage take precedence.
Configure Signal Flows - to manage all content and process flows, as well as process automation to define automatic responses to system changes and critical data sharing.
Disaster Recovery - select and remotely route primary or back-up automation to air.
Operator Controls - Configure routers and monitor walls, directly control Glue, identify signals, incoming lines to steer satellite downlinks, system-wide pre-sets.
Cloud Playout - make cloud-based resources look and act like traditional devices, so that operators can continue to control their cloud playout via the same familiar automation workflows and control systems they are used to.
Read more about Hub and Spoke Control >
The Flex Network Playout Control System provides fast, simple and reliable control and automation playout as a primary or a backup/tertiary system.
Provides a view list of available clips with drag and drop ability to change play out order, create and save playlists, modify the playlist at any time (edit, add and delete elements and append playlists - even while the list is playing out.
The system can automatically control multiple machines synchronously with the touch of a button, allowing the Technical Director to concentrate on the production rather than the technology.
The Application streamlines pre-production setup and last-minute on-air changes for late-breaking and unscripted events.
The distributed system architecture also means that failure of an individual piece will not cripple the entire system.
Find out more >