TallyMan Control System Overview
From signal routing, to remote device control, by grouping multi-level actions in to a single, user-configurable interface, you can do things that will make your production much more efficient. By providing just the controls needed, from simple interfaces for specific tasks, to unleashing the full power of a system built on a logic-based and open control layer, customers are able to maintain complete ownership of their systems.
Powerful Control Engine - Take the efficiency found in automated systems and multiply it to dramatically reduce production costs and support facility wide management.
Third Party Integration Independent and protocol agnostic integration that provides the flexibility needed to choose the breed with confidence, to integrate with new or existing third-party systems.
Intuitive Control Interfaces Fully customisable interfaces to enhance and streamline operational workflows and bring flexibility to facilities worldwide.
User Configurable - hide underlying system complexities so that operators can remain focused on making great content.
Share technology between multiple locations through the unified control layer.
Reduce staffing levels and minimise reworking through errors by putting the appropriate amount of control under the hands of a single operator.
Let production values increase while limiting the need for staff to be retrained and to devote time to complex operations.
Minimise the number of operational control panels needed by managing the functionality across a controlled system via unified interfaces.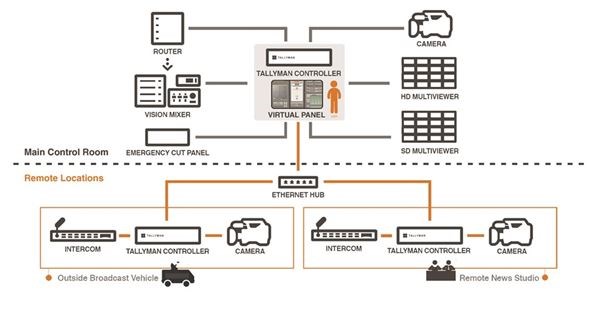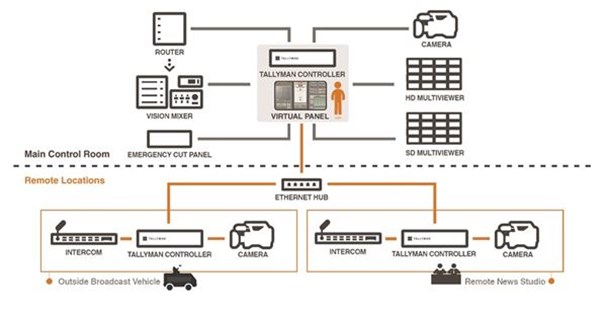 VIRTUAL PANELS
The TM Virtual Panel is an incredibly powerful addition to the TallyMan control system. The fully customisable user interface brings signal flow management and monitoring and device management to users in an intuitive control surface, enhancing operational workflow to bring flexibility to outside broadcast and transmission facilities throughout the world.
Fully customisable to the end users requirement
Custom interaction with key functions of broadcast equipment
Reduced learning curve and the risk of accidental errors when using the full manufacturer provided interfaces
Compatible with every TallyMan installation, new and existing
Signal flow management – Control of Video and Audio routers, including internal routers of audio consoles and Vision Switchers
Signal flow management – Control of Video and Audio routers, including internal routers of audio consoles and Vision Switchers.
Procedure automation – Simplify multi step procedures across multiple devices into a single button press or without any human interaction with live feedback on the virtual panel
Virtual patching – remove the time consuming patching in dynamic installs such as Outside broadcast vehicles, TallyMan contains a fully fledged GPI router with presets
Custom IP and Serial interfaces – to allow interaction with in-house systems and devices without additional development
View Product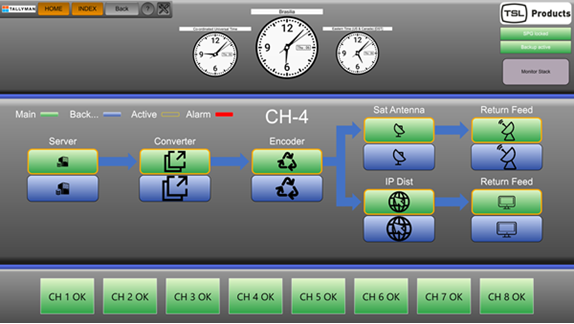 ACROSS APPLICATIONS
OB TRUCKS

Simply and efficiently configure broadcast trucks, whilst sharing and managing resources between your systems to save time, space and money.
Camera assign – Assign camera names to CCUs effortlessly
Joystick multiplexing – Use fewer RCPs to control multiple CCUs and assign cameras to RCPs on the fly
Tally management – Complete scalable tally solution across multiple OB trucks
VTR Control - manage VTRs with single or ganged control, from basic transport control to cue points, slow-motion control and two-machine cuts editing
Facility Expansion - Maximise up-time and manage variable demand by simply docking trucks to larger broadcast facilities seamlessly as needed. Delegate control and information while minimising setup time
Video/audio routing – Routing control over video and audio routers. Single cross point, associated sources, and salvos
InterTruckability - Quickly and simply interact to share all device information, managing names, control and tally across systems. Signal patching is reduced as tielines become dynamic, naming problems are eliminated and logic patching is performed virtually
REMOTE AND LIVE PRODUCTION

Remotely controlled devices and systems across multiple locations will save on cost and keep staff working efficiently.
tudio Preset Management (Save/Recall) – Save and recall complete studio configurations including camera `positions/parameters, lighting scenes, routing tables and more
Studio Delegation – Assign studios to PCRs with associated routing, tally and control following assignment
Video Routing (confidence monitoring, branding) – Routing and naming control, single cross-point, associated sources, and salvos for studio presets
Tally Management - Complete scalable tally solution across multiple routers, switchers, cameras and multiviewers
Audio Control (Mic gain, IFB, routing) – Control over audio routing and channel controls for remote control, studio preset set/recall and back-up control
PTZ Camera Control – Complete control over PTZ (Pan Tilt Zoom) cameras for granular control, preset set/recall and tally control
Lighting Control – Set and recall scenes of a lighting mixer and adjust levels via hardware or virtual control panels
VoIP Control (Dial/Make/End call) – Use virtual panels to dial, make and end VoIP calls.
TM1 Mk3+
TallyMan sits at the heart of any broadcast system, coordinating critical broadcast infrastructure components and with protocol agnostic integration, provides operators with a common platform to universally control equipment from different vendors including routers, multiviewers, vision mixers, audio consoles, robotic cameras, intercom systems, media servers, automation systems and more.

TallyMan System Controller is easy to deploy, reducing costs and providing customers with the flexibility to maintain complete ownership of their environment.
1 RU unit
2 x Gigabit Ethernet ports
Four RS422 ports
TallyMan software included
Solid state memory
64 user configurable GPIO (freely configurable per pin)
32 Isolated Relay Ouputs
Dual redundant hot swappable PSUs
Auto-failover Redundancy system (optional)
View Product
TM1-Tally
Renowned for its rock-solid reliability and usability, more than 2,000 customers rely on TSL TallyMan products to streamline control of routers, multiviewers, vision mixers, audio consoles, robotic cameras, intercom systems, media servers, automation systems, and more, vastly simplifying operations and minimizing mistakes. The newest addition, TM1-Tally, provides a low cost of entry to TSL's professional advanced control product family in a space-saving form factor that is well-suited for OB truck environments and crowded broadcast facilities.
A full-fledged tally system that is vendor-agnostic for basic to medium tally systems.
Expandable from six devices to 12, the TM1-Tally accommodates more devices as requirements change.
Route tally and media as well as perform other control functions such as protocol translation, device control, and system macros.
Control challenges in smaller systems or fly-packs can be addressed and easily reconfigured as production demands change.
Compatible with TSL hardware and virtual control panels.
View Product