Playout Automation
TSL's Playout Control System provides fast, simple and reliable control and automation playout as a primary or a backup/tertiary system.
The automation system is driven by a system controller and web-based application GUI.
The SPS-4200 Application provides a view list of available clips with drag and drop ability to change play out order, create and save playlists, modify the playlist at any time (edit, add and delete elements and append playlists - even while the list is playing out.
The system can automatically control multiple machines synchronously with the touch of a button, allowing the Technical Director to concentrate on the production rather than the technology.
In addition, the Application streamlines pre-production setup and last-minute on-air changes for late-breaking and unscripted events.
The distributed system architecture also means that failure of an individual piece will not cripple the entire system.
Key Applications
Automation Backup: affordable, easy-to-use, and reliable playout control standing by 24/7 to keep you on air. Utilising existing playlists from your existing automation or traffic system to control program and commercial playout, import playlists, manually build and modify existing lists.
Replay Control: give On-Air announcers and producers simple and safe control over on-air playback - Pause, Play, Slomo Forward & Reverse at fixed speeds on the on-air channel.
Direct-to-Air: give News Directors the power to safely and instantly put the news studio on-air to cover a late breaking story - a simple & safe solution to get Breaking News on air fast.
SPS-4200 Automation Application
The SPS-4200 also supports time-of-day, back to back, manual and remotely triggered play out as well as secondary events - GPOs and router, switcher and graphics control.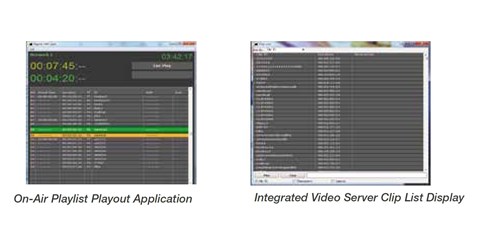 Flex Network Playout Automation Ecosystem
---
SPS 4200
Supports 4 play out / record channels, one playlist per channel
Modify the playlist at any time
Product Specs >
---
USP3-16
Send commands via Ethernet or GPO and display tally or status from Ethernet or GPl's.
Program buttons with different legends and solid or flashing colours
Product Specs >
---
GTP-32
Programmable logic control processor.
Enables cross-interface communication to trigger events based on user-defined rules.
Product Specs