Issue 3: ST-2110 vs ST-2022-6
Delivering Efficiency to Uncompressed Audio and Video Over IP
Early adopters had to use ST-2022-6. Many will now shift to ST-2110 for live production in particular
In the early proof of concepts, one of the key concerns from customers was interoperability. 
ST-2022-6 demonstrated that this was possible.
ST-2110 describes how existing open standards can be used together for more intelligent and economic use of bandwidth across a network.
It's all very well proposing that we climb on board and take advantage of increasing port speeds, but understanding the industry standards is paramount when considering using IP to carry uncompressed video and audio.
Just in the last year or so, we've seen standards stabilise, thanks to the good work done by AIMS, the EBU, SMPTE the Video Services Forum, key manufacturers, and other standards bodies.
In the early proof of concepts, one of the key concerns from customers was interoperability. If ST-2022-6 achieved anything, it proved that interoperability was achievable. In hindsight, interoperability between different vendors came very quickly, so in that sense, ST 2022-6 was the right standard at the right time.
SMPTE ST-2022-6 is the simplest and most ubiquitous standard. The VSF Technical recommendation – TR – 04 – consists of standards SMPTE ST-2022-6 for video and AES67 for separate audio, which offers a direct connection to audio equipment. VSF TR-03 presents essence-based transport, using RTP based standard RFC-4175, for video essence transport, AES67 for audio, SMPTE 2059 (based on IEEE 1588 PTP) for timing and SMPTE 291 for ANC data. All of these pieces are already open, completed standards.
ST-2110 describes how to use them together and for more intelligent and economic use of bandwidth across a network. For example, there's little point in having an audio console subscribe to multiple 1.5 GB/S HD video streams encapsulated by SMPTE ST-2022-6 when all it needs is the AES67 streams.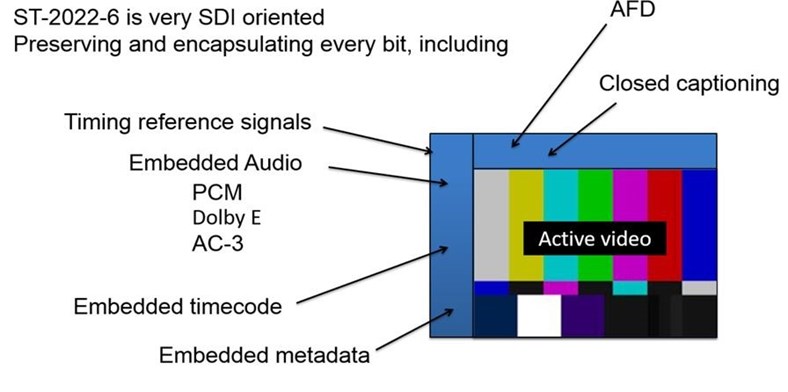 For many customers, particularly those involved in production and live production, SMPTE ST-2110 makes absolute sense. However, not everybody is involved in production or live production. For them, continuing to use SMPTE ST-2022-6 going forward could make sense. Remeber back to Issue 1, where we highlighted whether now was the right time to make the move, we have the below scenarios:
1. You run a subscription service which makes revenue by providing the latest and greatest technology. The format agnostic abilities of IP would be advantageous to easily give subscribers access to any new format that comes along: 4K, High Dynamic Range (HDR) and virtual reality services. This infrastructure could be use ST-2022-6 or ST-2110.
2. You're a specialty sport event broadcaster, which needs to add extra channels and take them away. Not having to build out physical infrastructure would be a huge advantage. Using ST-2110 would be the most cost-effective route here.
3. A regional news broadcaster has shooters capturing news in SD and has plans to upgrade their technology every 10 to 20 years. The costs involved moving to IP would far outweigh the benefits.
MOST IMPORTANTLY - Don't go at it alone
As you begin a migration to IP look for partnerships. Make sure you have your switch vendor, your broadcast supplier, and your system integrator engaged early, and use their resources. All these partners have experience and pre-sale information that can help with the design, avoid common pitfalls, and make the deployment easier. End-users want partnerships that can deliver a complete working system. The last thing they want are involved parties all saying they have the best offerings yet assemble working bits that don't form a working system. Partnerships give end users the confidence to move forward with new technology.
Implementing IP technology requires a shift in the user/vendor relationship towards longer term relationships. In the SDI world, once infrastructure was built and certified, there was often little ongoing interaction with suppliers until a problem arose and customer service was needed. But IP and virtual infrastructure can result in more after-sale interdependency. As more IP technologies are sold as software licenses, or as hardware components run by software are subject to updating, a different after-sale relationship is taking shape. This can involve ongoing payment, frequent upgrades, requests for new features, bug fixes, security concerns, and fast changing feature sets. With many IP suppliers, the relationship becomes more of an interdependent partnership, and less of a series of transactions.