Tech Insights - The Business Case for IP
The Transition to IP Can't Be Fully Appreciated Until its History is Understood
In 2002, IP technology had passed a tipping point and could run faster than SDI.


10 GB/S, 25 GB/S, and even 100 GB/S nodes in standard switches can now be bought economically.


Early SMPTE 2022-6 adopters understand its operational efficiencies.


'Essence-based' SMPTE 2110 will support business goals through simpler, more logical workflows.
In the 1990's, when television first did SDI, standard definition video was at 270 MB/S, which doesn't sound like much these days. But back then, IP systems only could pass 1 to 10 MB/S. So, the television industry has had to develop its own standards and chipsets.
When television moved to HD around the early 2000's, SDI systems were hitting 1.5 GB/S. By then the efficiency of IP was not far behind and fast catching up. By 2002, IP technology had passed a tipping point and could run faster than SDI. In the years that followed, even though SDI performance continued to improve, the massive investment in IP from the IT industry pushed Ethernet technology further ahead still.
When we talk about IP technology we are not talking about a static set of tools or benefits. IP technology is advancing rapidly on the back of IT technology, which dwarfs the amount of money spent on proprietary broadcast technology by a staggering degree. It is moving forward and evolving at ever increasing speeds.
At TSL Products we like to build and retain close relationships with our customers and partners. And so we would like to keep you up to date with the latest product, event news and thought leadership.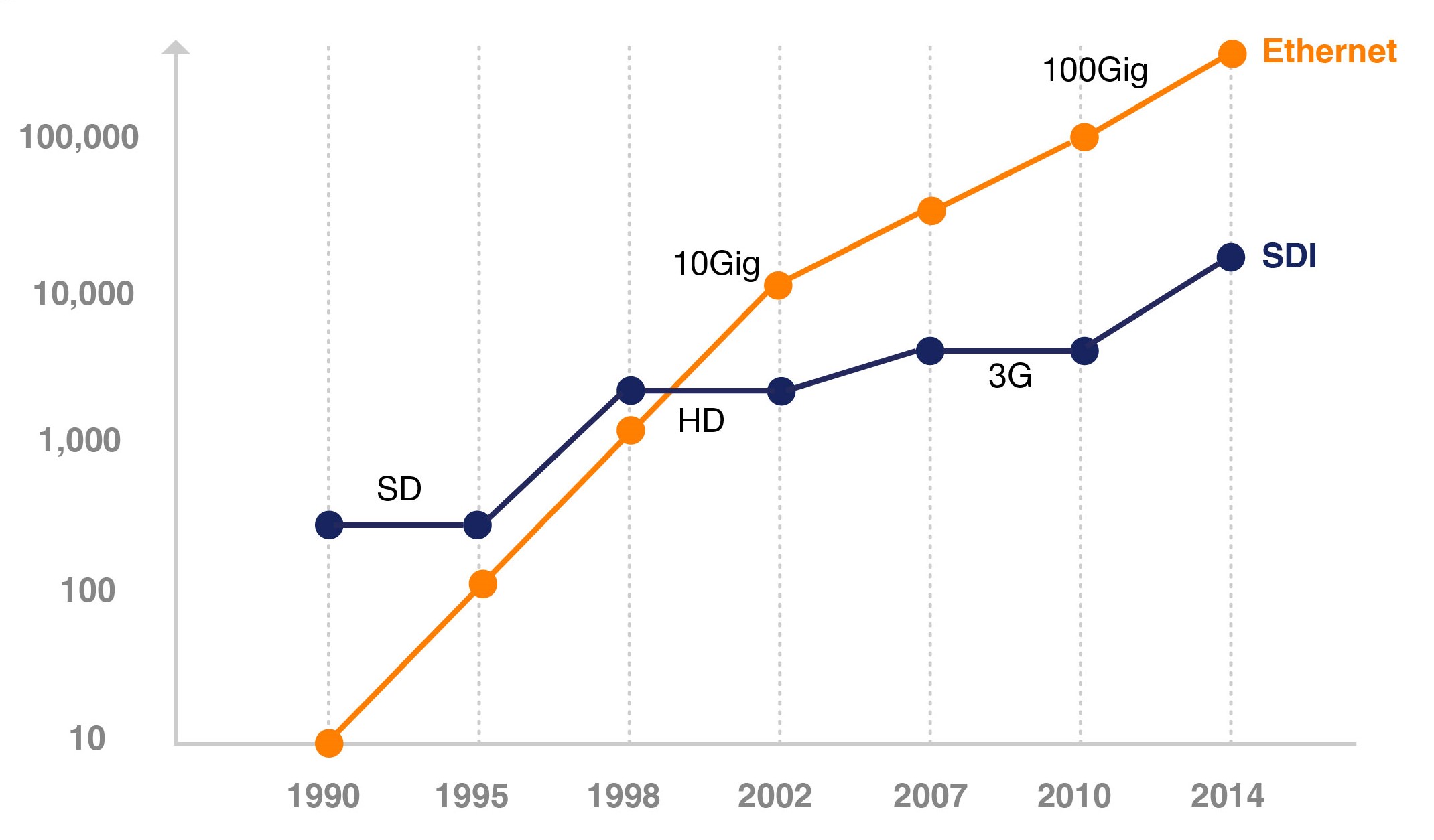 To ensure that we only send you news relevant to you, please provide us with a little more information about yourself.
Today, IP can easily handle uncompressed digital video, and 10 GB/S, 25 GB/S, and even 100 GB/S nodes in standard switches can be bought economically. IP technology has rigorously followed Moore's law which states that computer processing power doubles approximately every two years.
Until now, the rate of 'bandwidth' progress being demonstrated by IT industry port speeds is far outstripping those made available by broadcast manufacturers. Those who have been traditionally responsible for the manufacturing of SDI infrastructure (Routers and DA's etc.) simply cannot keep pace with the port speeds offered by IT hardware. With SMPTE 2022-6 already being deployed by early adopters in to IP infrastructures, the operational efficiencies are being realised more and more each day. And with the arrival of SMPTE 2110 providing an 'essence based' approach, by separating audio, video and metadata into separate streams, customers will not only able to make far more efficient use of the available bandwidth across their network, they will also be able to achieve the business goals of the organisation through simpler, more logical workflows.
Is now the right time to make the transition?

The transition to IP technology may be the most talked about topic on the tech side of the television industry. But that does not mean it makes sense for all organizations. As you consider starting a transition to IP, ask why you want to go with it. What benefit are you expecting? Once you understand that, stay focused on it, and don't get distracted. The benefits of IP vary widely.
The level of benefit an organization receives will depend on their business goals: Some organizations will find no significant improvement because after you add in the overhead and cost of conversion, the differentials can be small. Imagine these scenarios:
You run a subscription service which makes revenue by providing the latest and greatest technology. The format agnostic abilities of IP would be advantageous to easily give subscribers access to any new format that comes along: 4K, High Dynamic Range (HDR) and virtual reality services.


You're a speciality sport event broadcaster, which needs to add extra channels and take them away. Not having to build out physical infrastructure would be a huge advantage.


A regional news broadcaster has shooters capturing news in SD and has plans to upgrade their technology every 10 to 20 years. The costs involved moving to IP would far outweigh the benefits.
The migration to IP is more than just about quality and efficiency improvement because it adds capabilities that impact how business is conducted. An IP facility can skip disruptive system upgrades for new standards, and quickly ramp up new workflows and distribution to take advantage of fast-breaking opportunities, all while having a detailed understanding of how viewers are reacting to new programming with real-time user metrics.
Competing with an organization with those capabilities is a challenge for heritage television organizations, and the balance has to be struck when regarding the business advantages of acquiring IP infrastructure against the cost, disruption, and risk of the transition.