TSL Control Unleashes New Players and Bold Updates at IBC2023 
Shown at IBC2023: New control capabilities give customers dual redundant operations; The world's favourite vendor-neutral control solutions solve critical issues and seamlessly facilitate interoperability across existing infrastructure
Marlow, UK – September 13, 2023 – TSL is inviting IBC2023 attendees to experience first-hand new Advance Broadcast Control solutions and capabilities on stand 10.B41. The all-star lineup features 14 key workflow applications including the new TSL X-Connect IP routing and GTP-V1 live production control solutions running in the cloud; the new GTP-42 secure 1RU option for TSL Flex; and a freshly updated Tallyman product line with powerful redundancy capabilities and new 1RU offering TM1 Tally - a new entry level option to enable a wider range of broadcast and media providers to access TSL's wide-ranging control capabilities with an upgrade path available to enable future scalability.
"The wide range of TSL control solution offerings - from entry-level to advanced - makes us the ideal go-to partner for flexibility, reliable quality and affordability. We can help design a transition that reduces engineering resource costs and optimises sustainability, all while de-risking and future-proofing facilities in a way that maximizes the lifetime ROI," states Matthew Quade, CEO of TSL.
TSL Control offers modular processing to help customers manage a wide range of challenges, including the transition to IP, reactive ad insertion, universal device control, camera delegation, protocol translation, router control, server/clip control, SNMP monitoring, disaster recovery systems, monitoring (firing presets, creating salvos), graphics, scheduled actions, and secondary events.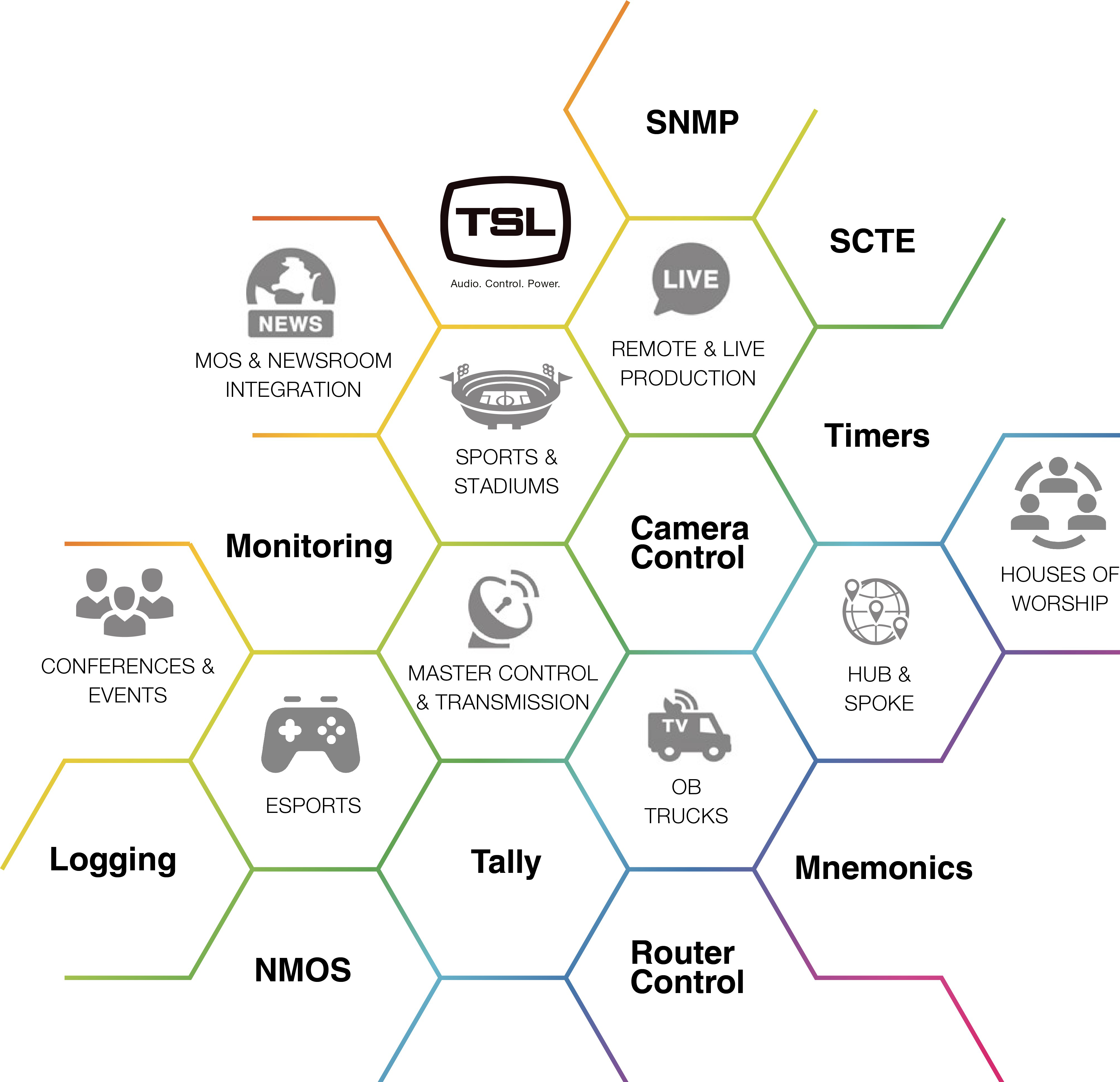 New TallyMan Highlights

The award-winning TSL TallyMan product family serves as the central control system for fast-paced media workflows, eliminating the chaos of managing multiple hubs and bespoke systems required to produce and distribute sports, news, concerts, house of worship, and other live broadcast events. Control challenges that come with smaller systems or fly-packs can be addressed and easily reconfigured as production demands change. New redundancy capabilities further simplify productions and bring greater return on investment which include:
Automatic failover solution
Fully automatic synchronization of user-config across the redundant pair of controllers
Single virtual IP, making it easy and transparent for external IP systems to interact with the current active controller, with no changes needed to those external systems
Support for parallel-wired serial and GPI input and output ports. As with the virtual IP, it means that no changes are needed in order for external systems to interact correctly with the current-active controller
Easy-to-use 4-button redundancy control panel, allowing monitoring and manual override of the redundancy system from a convenient operator location. Connects to the system over ethernet and powered by PoE for ease of installation.
"Our advanced control solutions have grown from a one-feature product - live production tallies - to a complete broadcast control product including router control, device control, and more, serving a much more critical role in customer workflows. Redundancy has become more important than ever before." states Maurice Snell, Control Solutions Architect, TSL.
"In the past, customers had to deploy complex and expensive external solutions to achieve control system redundancy. Now, with the new TallyMan capabilities, they have an easy-to-use, cost-effective, fully automated redundancy solution that doesn't need additional rack space. With just a small optional control panel, they can monitor and override the redundancy."
Team player when it comes to winning
Vendor-agnostic, TSL Control works seamlessly alongside existing infrastructure, enabling customers to create best-in-class workflows while simultaneously streamlining systems.
TSL excels at protocol translation and NMOS integration and prides itself on its ability to work with equipment from any vendor. This means that, no matter what brand of equipment customers have, TSL can integrate it into their productions, easily facilitating interoperability across the operations and fast production workflows. With TSL, monitoring, control, and management layers always work together smoothly whether it's on-prem, on-location, virtualized or in the cloud.

TSL control solutions can help with the following workflow challenges:
IP transition - TSL can help ease the transition to IP by offering a path towards migrating to IP infrastructure while making it compatible with existing baseband control infrastructure. Utilising NMOS, TSL's multi-award-winning X-Connect takes care of the end-point discovery and media flow subscriptions while presenting it to the new or existing SDI router control system so that the operators can gain familiarity with controlling IP media flows.
Ad insertion (SCTE) - For broadcasters navigating the thrilling world of live sports and news, the unpredictability of highly reactive content can make signalling ad insertion challenging. Rapid changes in content increase the likelihood of failing to deliver ad-breaks at the right time, risking reputational damage with advertisers. TSL Control allows for flexible automated management of SCTE inserters, providing validation and manual triggering of SCTE data to cope with reactive ad breaks. It can also interface with a wide array of automation systems to allow for scheduled ad insertion.
Device control - Operators are faced with a bewildering array of control surfaces, web pages, and graphical user interfaces to control even a simple production. This can lead to delays and errors, affecting production values and output, and even causing a financial penalty (service credits) from the broadcasters' customers. TSL Control with its vast array of device interfaces can allow for the flexible and user-configurable control of multiple devices from a single control panel or GUI. Present just the controls required to enable the operational workflows for multiple devices, from multiple vendors.
Tally (UMD, Camera delegation) - TSL is the world leader in vendor-neutral tally control. It enables the flexible configuration of tally signals to meet the needs of even the most complex broadcast environment or production. TSL Control accommodates small centralised systems that can communicate with a huge number of third-party devices, through to large, distributed, multi-studio systems accommodating dynamic room delegation. All these systems can be specified to be redundant and resilient, local or geographically distributed to suit each customer requirement and environment.
Protocol translation - Most broadcasters have a wide variety of new and legacy equipment that they need to work together in one cohesive system. These devices will utilise a vast array of different protocols and interfaces, everything from GPIs to XML. TSL Control platform has multiple interfaces (IP/Serial/GPIO) and a huge library of protocols, encompassing all the major broadcast vendors. This allows the TSL Control solutions to be a protocol "Swiss Army Knife", solving issues and problems whatever the workflow.