Cost-effective audio monitoring for SDI and IP facilities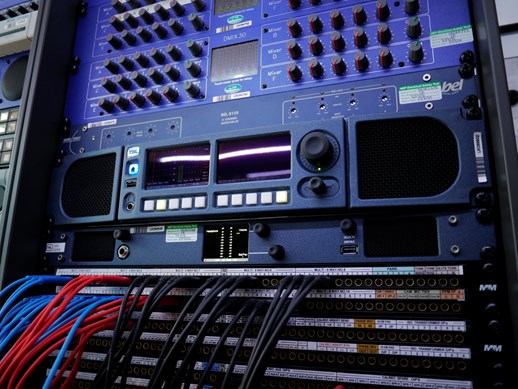 With the broadcast industry in constant demand to do more with less, TSL Products have developed a full range of cost-effective audio monitoring solutions suitable for 3G/HD/SD-SDI, Danté, MADI, AES and Analogue infrastructures.
Built in conjunction with the world's leading broadcasters, the MPA1 range offers a lightweight, compact 1RU form-factor at only 100mm, ideally suited for environments where space is a premium such as OB trucks, fly-aways, SNG and ENG trucks.
Adopted by leading broadcasters in Europe and around the globe, including NEP UK, Canal+ (France), Cinevideo (Italy) and Mobile TV Group (US), the range has been used within major sporting events and productions to provide efficient and precise solo / mix audio monitoring, as well as video confidence monitoring.
"We have been TSL customers for years and many of our trucks are standardised on the TSL PAM2 units for the engineering monitoring positions, while our fly packs come with the MPA1 MADI, Dante and SDI monitors," explains Paul Fournier, Head of Audio at NEP UK.
"When we started designing our new OB truck in early 2017, we were looking for the smallest form audio monitoring unit we could find, that would be flexible and easy to use for our VT operators, and the MPA1 Solo SDI was just the ticket," added Fournier.
Meanwhile, Canal+ chose the MPA1-Mix-Dante as it fits seamlessly into their IP-based workflow at its Paris Canal+ Factory facility, offering excellent overall audio quality for their custom mixes whilst also fitting right in to their existing IP infrastructure.
"This commitment to supporting new and existing infrastructure types is a key feature of TSL's AMUs, and helps customers navigate the transition to IP at a pace that suits them." Explains Stephen Brownsill, Audio Product Manager at TSL Products. "We are dedicated to serve existing and future facilities which is why our IP roadmap aligns with that of AIMS and the adoption of open standards."
The most recent additions to the MPA1 range are the MPA1-Mix-SDI and MPA1-Solo/Mix-8 (Analogue), which offer an extended range of connectivity already available in the MPA1 line along with the existing Dante / AES-67 and MADI versions.
Both the MPA1-SOLO-8 and MPA1-MIX-8 come equipped with 16 x balanced analogue Inputs, 8 x AES Inputs and 8 x GPIO ports. The new MPA1-MIX-SDI builds upon the success of the MPA1-SOLO-SDI and allows up to 16 stereo monitoring mixes comprising up to 8 stereo pairs to be created and quickly recalled, both from the front panel or remotely via the remote Web GUI, a feature that comes as standard throughout the range.
Continuing the recognition for enhanced connectivity of its devices, the MPA1 audio monitoring range now supports SNMP, allowing customers to realise more comprehensive and streamlined workflows, whilst also benefitting from smarter and more intelligent integrated solutions where users can remotely control their MPA1's using TSL's TallyMan control system or any third-party control system supporting SNMP.
Find out more at www.tslproducts.com