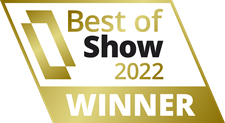 PMiD and PMiD-CO Intelligent Power Distribution Units Named  'Best of Show' at the 2022 NAB Show
TSL is proud to announce its PMiD and PMiD-CO Intelligent Power Distribution Units were named 'Best of Show Winners' at the 2022 NAB Show by Sound & Video Contractor magazine. According to the magazine, the award recognizes innovation and excellence in new, recently introduced and pending products and services for professional AV products and solutions.
"We are honored to have been selected for this prestigious award," says Chris Exelby, managing director, TSL. "NAB was a great show for us, as we were able to showcase our latest advancements to our existing and potential customers, in-person. Winning this award for our new power line really solidifies our dedication to advancing our power solutions, and the feedback from the industry has been tremendous."
The new PMiD and PMiD-CO Intelligent Power Distribution Units (PDUs) share a common architecture with the '-CO' unit adding a second power inlet with internal changeover, to provide resilient power for single supply devices – all while maintaining the compact single rack unit (1RU) form-factor to minimize housing resources. Thanks to the new platform, both units are capable of operating across the universal supply range from 100v to 260v and with 20A and 32A variants delivered through 14-way x IEC C13 outlets.
"With live events coming back to the forefront and becoming commonplace again, this year's Best of Show awards were expected to be more competitive than ever ̶ and it didn't disappoint," says Mark Pescatore, editor, Sound & Video Contractor. "The amount of entries matched the positive attendance at this year's show and selecting the winners proved to be challenging. Those who have won can know that their solution was truly outstanding and impressed our judges, as all entries received were of a high-level."
TSL has deployments worldwide including many with multi-site operations across industries, where systems can be effectively managed by remote engineering teams, reducing the need for on-site staff. This new Power platform has been developed to build on and improve the ability to manage installations remotely, not only supporting operational efficiency through the units extensive alarm capability when key parameters are breached but contributing to a more sustainable environment as equipment can be selectively switched off when not required. In addition, as companies review how they can make their operations more sustainable, a major factor is power usage, the updated units only measure what is being used so improvements can be tracked and reported on.
If your organization remotely operates its rack-mounted requipment, these new units from TSL provide the 'window into the rack' that is needed, no matter where you are monitoring them from. This helps to deliver new levels of operational efficiency through the rapid identification of faults as well as the capability to improve energy consumption.