IBC 2019 Show Review
As the industry's transition to IP is gaining momentum, the need to mitigate complexity within new remote production and IP systems is also at the forefront. From the way an audio monitoring unit subscribes to multicast streams, to how these streams are displayed and handled on the front panels of the device, through replicating familiar workflows for operators within control system panels, regardless of the underlying technology. The move to IP is also driving the need to be able to control devices differently, moving to edge device control, which requires a whole new set of standards, and the need for interoperability, which is being researched through the work of the AMWA / NMOS initiative.
Production requirements keep changing with new and more complex shows and events, therefore making it difficult for customers to feel confident that they are making the right investment in equipment and technology. TSL Products continues to design products and solutions that support both traditional and IP infrastructures and workflows in order to ease the transition for our customers.
We have focused on developing user interfaces and tools that allow customers to implement powerful functionality themselves. Since each company has its own workflow, users need to be armed with the knowledge to implement the full capabilities of the system, and to help engineers understand how it can be configured to assist with existing and future projects. Through empowering operators and engineers by giving them complete control of the system, their job becomes much easier.
Building solutions that provide added value to customers and allows them to perform tasks with ease and to the highest quality sits at the heart of TSL Products. This philosophy means customers can move ''beyond the box" to maintain technical excellence and keep pace with the latest technologies and industry standards. Creating a user-focused experience, regardless of the advances in underlying technology, is paramount to customer satisfaction and remains our key focus.
Audio Monitoring
As well as the ability to subscribe to both audio and video essences, the PAM-IP also provides 'in-band,' 'out of band' and manual control methods for managing flow subscriptions. In all cases, comprehensive status monitoring is provided both on the front panel and remotely using the PAM-IP webpage.
With thanks to Arista and Tektronix, we were able to demonstrate the PAM-IP working on a ST-2110 network, demonstrating not just how comprehensive the setup is, but how it provides true confidence monitoring to engineers. Using the PAM-IP webpage, engineers are able to remotely check that the PAM-IP is locked to PTP, that the streams are being recieved from the correct domain and that it is locked to the right grand master. The webpage also provides the confidence needed that the subscriptions on the Tektonix Prism (as shown in the set-up below) and the PAM-IP are the same.
Most importantly, this set up allows the engineer to remain confident that the PAM-IP is subscribed to the sources that the control system has told it to, regardless of whether this system is set up using in-band or out of band control, and regardless of which control system it is. If the PAM-IP is not able to subscribe the correct sources as directed by the control system, it helps to diagnose the cause of the issue.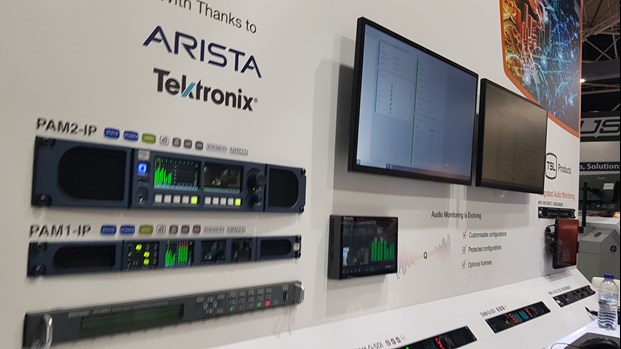 Audio monitoring tools with the ability to adapt, based on application, skillset or personal preference can address the ever-changing audio monitoring requirements. SAM-Q, which was launched at NAB 2019, is now shipping the first edition to the range, SAM-Q-SDI, to customers worldwide. SAM-Q represents a new approach to audio monitoring, allowing customers to determine how they wish to control and visualize their audio content based on application, environment or simple personal preference.
Customisable Configurations: The only audio monitor that can be configured specifically to address the needs of different applications, skillsets and workflows.
Protected Configurations: Engineers an supervisors can restrict sources, modes and front panel functions to streamline operation and reduce user error.
Optional Licenses: A flexible and powerful audio monitoring platform whose feature set can change with your requirements, including optional MADI support or Loudness Monitoring.
At IBC 2019, we showed visitors new modes of operation, specifically for sound engineers who need to measure and guarantee audio delivery. These include audio phase, loudness monitoring and peak latch modes. In addition, we unveiled the ability to add MADI monitoring to the SAM-Q-SDI by way of a license. New and existing SAM-Q-SDI customers can add MADI functionality at any time, enabling SDI, AES, analogue and MADI sources to be monitored and mixed simultaneously.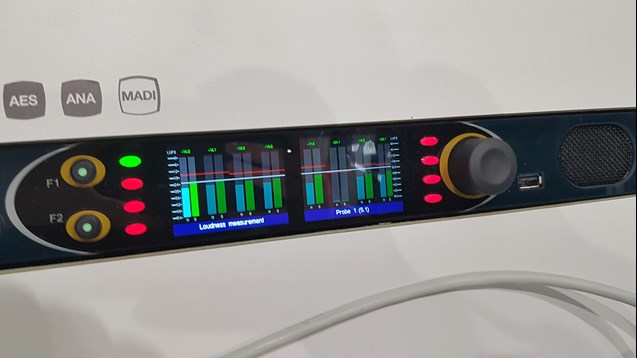 Advances in Broadcast Control Systems
With our acquisition of DNF Controls back in April, we were able to bring to the European market for the first time the expanded functionality of our advanced broadcast control offering within master control, playout and transmission.
These updates include MOS Integration with ENPS and iNews to simplify newsroom production automation by allowing users to take control of the critical devices that they depend on. For playout automation, customers can now cost-effectively and easily create primary or backup/tertiary automation systems, with simple and reliable control over video and graphics playout devices for live programming. Additionally, users can also now manage, switch and distribute SCTE commands manually or via automated controls with real time monitoring and notifications when an event occurs.
Demonstrating control across applications, visitors were able to get up close with the Virtual Panel,  a software-based control surface that interfaces to any control system and allows customers to visualise their workflows to effectively and intuitively manage their systems. Virtual panels can replicate full studio controls, camera controls, routing panels, signal flows, pre-sets and source names, all configured by the user with minimal training. 
Launching at IBC 2019, is a range of new universal control surfaces and interfaces, including the IP Control Buddy as well as the range of Anything Interface Boxes. The IP Control Buddy is a powerful yet compact system that controls any GPI/O-, Serial- and IP-enabled device. Scaling from one to four buttons, the IP Control Buddy can perform simple 'on/off'-style actions or trigger complex salvos, and its compact size makes it perfect for flyaway kits and quick-press production tasks. Anywhere Interface Boxes (AIBs) are designed specifically for A/V, radio, industrial and TV broadcasting market segments, and allow users to bridge systems and achieve optimal functionality without performing any programming. For device management and interface flexibility, the AIB series offers up to 16 GPI/Os and multiple device control paths, with the AIB-4 also providing Ethernet, 2-way DTMF and dial-up modem. The AIBs transport GPIs and On-Air Tallies into the field, wherever you need them – across cities, states and even continents – remotely from your home facility. Configuration for any control and monitoring application is made easy with the 'programmer-free' web browser.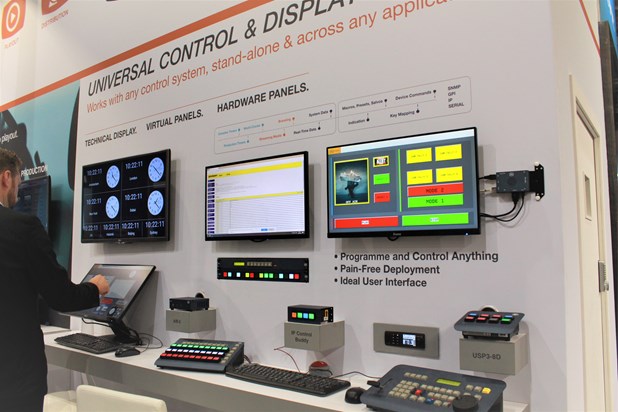 Highlights