PRESS RELEASE
IBC Stand 10.B41
Grass Valley partners with TSL Products on IP camera tally solution
Advanced camera uses TSL TallyMan for IP tallies and control

Marlow, UK – 12 September 2017 – Grass Valley, a Belden brand, has complemented the capabilities of its LDX IP and SDI cameras with tallies and control over IP using the TallyMan platform from TSL Products. This collaboration allows full IP standards based connection for video, audio, communications, tally and control.
The Grass Valley LDX series is the leading family of cameras on the market with direct IP interfacing, allowing it to be connected over a network rather than by a point-to-point connection. Multiple cameras and base stations can be linked via a COTS ethernet switch, which can also link to other equipment such as switchers for a complete live production environment.
Grass Valley partnered with TSL Products on a development which completes the IP deployment, with TallyMan providing tallies over the IP network. Because TSL Products is an independent vendor it already has interfaces to all the major equipment vendors, so tallies can be maintained across all devices. An important benefit of using TallyMan is that it works in mixed SDI and IP environments, so users can create the architecture that best suits each project.
"The transition to IP is opening up very exciting possibilities, like genuinely remote production," said Dan Bailey, TallyMan product manager at TSL Products. "But we see operational continuity as being absolutely critical, now and into the future. Staff want to know that, on an operational level, things will continue to work just as they did – things like tallies to track source and destination information throughout a workflow. Grass Valley turned to TallyMan to achieve just that. With over 1000 TallyMan installations already deployed worldwide, this partnership has obvious benefits to customers transitioning to a hybrid or all IP production system."
Paul De Bresser, Product Manager professional broadcast cameras at Grass Valley, added "The Grass Valley Direct IP camera solution, on our market-leading LDX camera family – which includes 4k and HDR – leads the industry today. TallyMan provides the perfect complement to our cameras, giving us an IP tally solution that is fully integrated and will be a critical element as we change the landscape of live production."
A Grass Valley LDX camera will be demonstrated on the TSL Products stand at IBC, showing how readily it is integrated into a IP tally and unified control network with TallyMan. The full range of TSL Products' control, monitoring and display solutions, and its specialist audio products, will be on display at IBC 2017, stand 10.B41.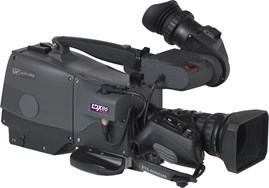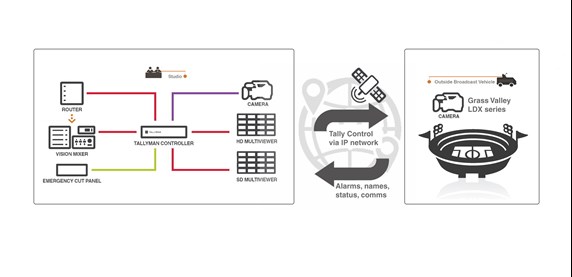 About TSL Products
For over 30 years we have worked directly with the world's leading broadcasters and content creators to design, manufacture and market a range of broadcast workflow solutions that serve to simplify operations within the television broadcast, cable, satellite, IPTV and IT industries. Specialising in audio monitoring, broadcast control systems and power management tools, we ensure that our solutions satisfy and exceed the commercial, technical and operational requirements that exist in IT-based and traditional workflows to help our customers lower costs, generate revenue and streamline operations.
About Grass Valley
Grass Valley is focused on empowering customers to create, control and connect content wherever, however and whenever it is consumed. In this ever-changing media landscape, content remains the most important element. Many of our customers are faced with the need to create and support new workflows while continuing to operate their legacy workflows, simultaneously broadcasting through traditional channels, Over-The-Top platforms, and Video-On-Demand as well as to tablets, PCs, and mobile devices.
We provide the innovative tools and expertise to help customers improve the efficiency of their operations while telling better stories to attract and keep viewers. With Grass Valley's integrated solutions that enable flexibility, efficiency, cost-effectiveness, quality and scalability, broadcasters and content creators have what they need to sustain their businesses. Headquartered in Montreal, Grass Valley has been in the broadcast business for nearly 60 years and is part of St. Louis-based Belden Inc. For more information, visit www.belden.com.