Turkuvaz Media Group Invests in TSL's Audio Monitoring and Control Solutions to Future-Proof Their Operations
Turkuvaz Media Group (TMG) is Turkey's largest private media group operating in television, radio broadcasting as well as news and printed media. When seeking to build a new media centre in Istanbul, the Group chose to deploy TSL Products' audio monitoring, advanced broadcast control and technical display solutions across its 10 studios and control rooms. Built with systems integrator Teratek, this project consolidates TMG's distributed studios into one location to improve efficiency, future-proof its capabilities for 4K broadcasting, and create a scalable system ready for the group's future growth.
The new centre enables the broadcaster to continue to grow at pace and maintain their position as the leading private media group in Turkey by utilising fully IP-enabled, all-4K HDR capable infrastructure based on Cisco. This allows TMG to boost both the quality and quantity of broadcasts while the flexibility of IP will enable new, more efficient workflows for production teams.
TSL were selected because their solutions are proven worldwide to be reliable and flexible. TSL's TallyMan advanced control system is one of the only available that offers an expansive protocol library by default, allowing TMG to control many different devices without the need for expansive development or additional cost.
"TallyMan allows customers to quickly set up systems and take control of their configurations. It's incredibly versatile", explains Daniel Shihata, Regional Sales Manager for Europe at TSL Products. "We strive to establish seamless interoperability with all our control solutions, and by providing engineers with the knowledge they need to configure the system themselves, the customer saves time and budget which can be applied to existing and future projects."
The TSL Advanced Control TallyMan System will be deployed in each studio. The system is primarily being used to control routing of Riedel MEdiornet and Grassvalley Sirius, as well as controlling logo generator, keyer and bypass switch equipment, combining control of equipment from multiple manufacturers into a single platform. The system will also manage and distribute Tally across the whole facility.

TMG have also invested in TSL's FlashBoard Technical Display System to be used for distributing studio planning information, on-air cu lighting and employee related information around the building, integrating with TallyMan where needed to display more detailed device information.
Using Dante, Madi, AES, analogue, SDI and 2110 audio formats in different applications TMG required audio monitoring solutions that guarantee content quality and quality of service. TSL's audio monitoring range provides support for different requirements, from multichannel audio level meter displays, audio loudness measurement and audio metadata monitoring.
"A key challenge for any audio solution is to create and present an operational experience that is both simple and intuitive, regardless of the method being used to carry audio throughout a broadcast facility." explains Daniel. "In studio applications, where requirement for operators and engineers can vary from show to show, needing to monitor audio from a diverse range of devices and where configurations can change regularly, broadcasters need tools that offer quick and easy to use controls and that retain familiarity to ease production. At TSL we remain focused on delivering a level of technical excellence that will help make our customer's workflows more efficient."
TSL's PAM-IP is now the go-to tool for IP-based production, proven in installations and POCs worldwide. Supporting ST-2110, ST-2022-6 and Dante networks, as well as more traditional SDI, AES and Analogue sources, the PAM-IP provides premium audio monitoring that aids the transition to IP. It was selected based on its future-proof capabilities, being used initially in baseband positions to be upgraded in the field when the transition to ST-2110 takes place. The units will monitor audio quality and loudness of on-air feeds in the MCR island, utilising the pre-set based monitoring feature to switch between different monitor feeds.
TSL's MPA1 Solo audio monitors are designed for use where fast audio QC is needed. TMG will use the SDI and Dante variants across the studio control rooms to monitor audio mixer outputs and technical monitoring of the feeds.
The MPA1 is a cost-effective, yet powerful workflow tool. The range features a built-in web server so operators can manage the channel names and system parameters remotely over an Ethernet network, view audio levels, signal status and format via a user-friendly web GUI (graphics user interface).
"The MPA1 Range also features SNMP control connectivity. This allows engineers to set pre-sets and for operators to recall MPA1 states as part of a system salvo, thereby minimising risk and complexity." concludes Daniel. "The PAM-IP provides a high level of integration with broadcast control systems and goes far beyond the requirements of a traditional audio monitor. ST-2110 multicast flow subscriptions can be managed using 'In-Band' or 'Out of Band' control protocols such as Ember+, NMOS IS-04/05 or TSL's own RESTful API, while subscription status can be monitored remotely over a network with the PAM-IP webpage, along with health status information such as IP packet counters, signal format and PTP status."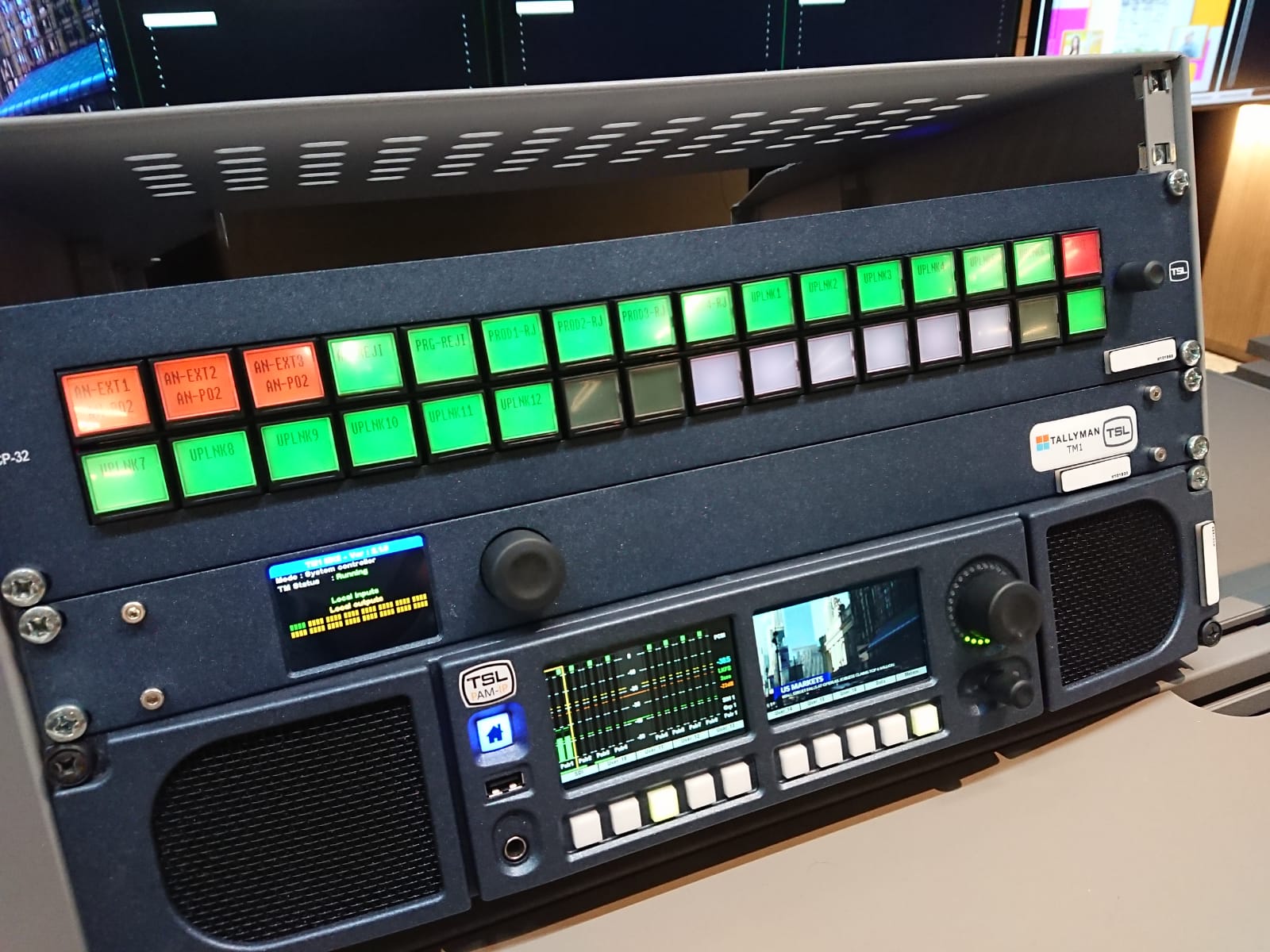 Control desk fitted with TMCP-32, TM1 MK2+, PAM2 IP
Solutions and services from TSL include:
10 x MPA SOLO SDI
6 x MPA SOLO DANTE
11 x PAM2 IP + Dolby
8 x TM1
12 x TMCP 16
10 x TMCP 32
8 x TMCP 48
Flashboard & TMVP