Welcome to the TSL Insights Hub
Explore the hottest topics and latest tech from the viewpoint of TSL
The Insights Hub is an ongoing, ever growing resource to help inform and guide broadcasters and facilities looking to get the most out of their investments. If you really want to go deep, then request access to our community hub below. 

CASE STUDY: How a major financial institution brings SDI, ST-2110 and NDI Routing and Device Control under a single TSL TMVP interface.
Dig deep in to TMVP interfacing in major AV-led applications. This system interfaces to a wide range of cameras, routers and devices across SDI, NDI and ST-2110 networks.

Watch the full demo, or quick-take chapters covering:
Chapters 1, 2 and 3: Facility and Technical Set Up - A quick overview of the AV facility and how the routing is managed across NDI, SDI and ST-2110 networks.
Chapter 4: Managing Signal Flow With Christie Spyder X80 - Learn how complex signal routing is managed seamlessly through one virtual panel.
Chapter 5: Presentation Control - This chapter provides an overview of how the presentations are controlled via interfacing presentation PCs and presenter clickers.
Chapters 6 & 7: Robotic and Remote Camera Control - Virtual panel control of robotic & Vinten Cameras, users can easily manage preset & camera functionality within 1 interface.
Chapter 8: Graphics & Multi-Viewer Control - How graphics are routed through the system, along with managing tallies and information on multi viewers.
Chapter 9: Audio and Switching - Take a look in to how the audio and switching is managed throughout the system.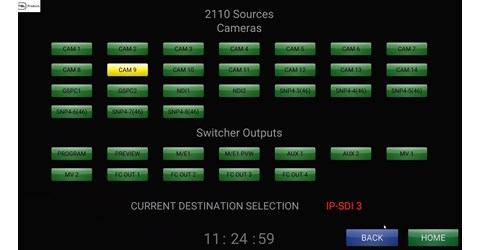 TSL's Guide to Audio Monitoring
In this in-depth Guide to Audio Monitoring we will dive deep in to the history and development of audio standards over time, and the effect that major industry transitions are having on the need of engineers and operators.

A Logical Approach to Broadcast Control
Consumers expect seamless high quality from broadcasters. They are also increasingly demanding in production values: where once a single camera would suffice, now there is an expectation of multiple cameras, graphics and effects. And this is happening in an environment of increasing budgetary pressure.

This four-part series introduces the concepts of control systems and dives in to the operational, technical and financial benefits unified control can bring.
Maintain high quality production values.
Manage cost control.
Automate repetitive tasks.
Seamlessly integrate with existing infrastructure.
Optimise operations.
Centralise resources.
Follow the Series Here


How IMG Media is managing a hybrid approach to the IP Transition
IMG Media is the largest sports production company in the world, working across the English football leagues, the Rugby World Cup, European Golf Tour, Snooker for the BBC as well as UFC in Europe.
Alan Bright joined IMG Media in 2015 as Director of Engineering where he inherited a state-of-the-art facility at Stockley Park in London. At the point when Stockley Park was built, IP was a theoretical concept for broadcast.

In this insightful one to one with Alan Bright and Stephen Brownsill from TSL, we learn how IMG are making the technical shift from SDI to IP whilst dealing with challenges of remaining on-air, the need for increased capacity and the impact of the pandemic.