TJ Sports works with TSL to create eSports glory
The TJ Sports Broadcast Production Center is the first large-scale eSports remote production center in Asia and is currently undergoing the second construction phase.

They have chosen TSL Products again for supplying its control system. This decision is based on its cooperation with TSL at Phase One, which installed the TSL Tallyman control system, including Tallyman servers, physical panels, and virtual panels.
Project Introduction
TJ Sports Broadcast Production Center is located in JingAn District, Shanghai, with a total area of 3550 square meters. It includes 5 production studios, 5 control rooms and a few specialized eSports function rooms. The production center is positioned as the core remote production base, without any localized event production and broadcasting.
TJ Sports Broadcast Production Center offers one-stop hosting service for such events as LPL, Hero League Mid-Season Championship (MSI), League of Heroes 2020 Season Global Final (S10), 2020 League of Heroes Mid-Season Cup (MSC), League of Heroes All-Star Game, DeMarcia Cup, Genting Electric Competition, TOC domestic events, TFT international events and other games.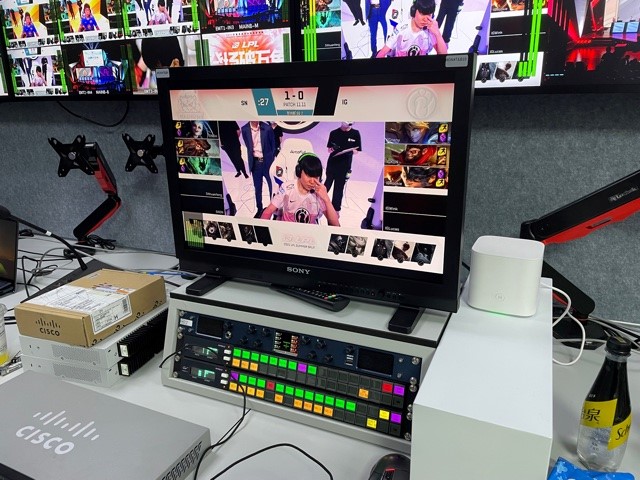 Installing Process
With more teams, venues and cities involved, and more overseas competitions and international direct broadcast demand for electric competitions, TJ Sports Cultural Development (Shanghai) needs the most advanced centralized control system to carry out more high-quality simultaneous multi-venue telecast production and continuously improve production quality.
TJ Sports Broadcast Production Center has got its unique concerns, not only due to multi-studios and multi-control rooms in the production island cluster but also because it needs to carry out simultaneous broadcasting of multiple eSports. Therefore, the flexibility of resource allocation and access control appears among the top priority in product selection.
After careful investigation, TJ Sports decided to choose TSL's centralized control system because it has obvious advantages in solving the flexible distribution and centralized management/control of resources such as multi-brand core AV, multi-screen, and TALLY while matching the remote production of off-site network control.
Zhang Xuming, Head of Broadcasting Technology Planning, said: "We have conducted a detailed assessment of the above key technical and product functional implementation, and have chosen TSL Products. Still, what attracts us most about TSL is its price to performance ratio. While a whole package from other brands cost millions of dollars, TSL can be secured at less than a million."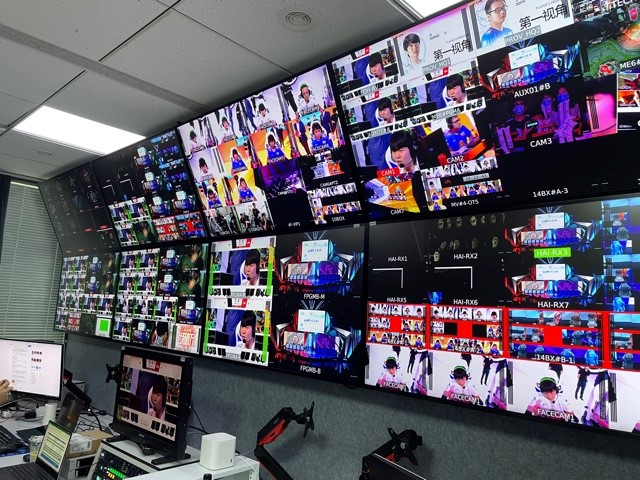 Challenges Encountered
Compared with other sports, eSports broadcasting is unique as it is divided into two arenas, one in the real event venue and the other in virtual gaming server. Electric competitions use not only live shooting cameras like in traditional sports but also OB servers for shooting virtual arenas. Operated by the game director (Observer), it takes "shots" of an in-game arena and even playback slow-motions of killing moments. The director and program director of the eSports event need to control the dynamics and pictures in both arenas at the same time in the broadcast.
ESports broadcasting has to capture lots of PC signals used as core signals for eSports broadcasting. eSports broadcasting's biggest difference from traditional sports broadcasting is that the number of production signals are huge, and among them, a lot of signal sources do not exist with traditional sports. 


For example, at the S10 Finals, the video source for one single event broadcast reached nearly 80 signals while the audio signal source totalled 128CH. Combined with field feeds of backhaul video, audio, and the overlay of local video and audio signals, the number of eSports signals is huge.
Zhang Xuming explained: "In the whole implementation process there generates a lot of temporary signal scheduling. To achieve team swapping setup, several modes of pre-set are completed in advance. Ahead of each game, just follow the schedule and press one key to switch to the expected pre-set mode. It only takes a second or even less. Thus, the smooth running of the entire event is ensured. This preset, if not implemented, can result in actual rule changes in many departments. After preset is realized, the live broadcast is optimized, so are other workflows, such as on-site event management."
"TSL is always ready to listen to us and make timely responses with product adjustments and program design customized to our special needs," Mr. Zhang said. "We exchange ideas and brainstorm together. Through discussion, we figure out some fantastic ideas combining each other's strength. Finally, we come up with a sophisticated technical solution."
In a few words, TSL centralized control system successfully accomplishes the management of large-scale video switchers, AV matrix, and even larger audio mixers. It enables technicians to overcome the challenge of planning and scheduling larger-scale signal sources, as well as resource allocation and centralized management for multi-project remote production. The centralization and humanization character of TSL Tallyman control system has also become the underlying element of system management.
Solution
TSL TM1 MK2+ plays the important role of centralized control in TJ Sports Broadcast Production Center. It fully meets up the needs of the production center, and has successfully accomplished off-site control of remote network production in major international events.
The Systems:
Hosts centralized scheduling and control of the overall signal in the entire studio complex, including 5 studios, 5 control rooms, and the core server room.
Carries out the centralized Tally management of studios and control rooms by flexible matching and resource allocation.
Handles some personalized items throughout the broadcast process, especially the signal scheduling pre-set, which helps operators reduce operating time while making the operation very variable.
"The TSL centralized control system enables the production center to organize the entries according to individual conditions," Zhang emphasized. "If it's not sorted out, it's very painful for technicians to deal with it later. If you are doing a local event and need to switch venues, it usually takes about a week or so."
He added, "TSL enables us to carry more events that are more intensive and more complex. It does so through a certain amount of advance setup. It actually reduces risk at the execution phase while improving the humanized operating process. If it takes 10 steps to do one thing, for instance, I can set these 10 steps in advance in the system and save it into a key. For the operator, you just press the key and everything is done, at the click of a button. But behind the scene, all 10 steps are executed."
Due to the pandemic outbreak in 2020, remote production of eSports has become increasingly important. With the help of TSL, TJ Sports did an excellent job of remotely producing the 2020 League of Heroes Mid-Season Cup (MSC) through innovative means and efficient team collaboration.
The competition attracted eight professional teams from the Chinese LPL and South Korea's LCK. It was the world's first remote production event to be broadcasted in venues across different countries. "In a stable production center, TSL is able to hide the complexity of the underlying system so that operators can always focus on producing great content, implementing ways or programming patterns beyond imagination in the past," Zhang said.
Using Virtual Panels
In addition, the TallyMan virtual panel provides a complete software control interface with an intuitive editor that allows for multi-page configuration, making it easy to access, configure, and edit.
"TSL's PC-based virtual panel intelligently draws a two-story floor-based floor plan across the entire production center into TMVP. This graphical interface allows it to be operated by many people who don't know much about the entire system, and somehow lowers the threshold for its operators. After all, senior personnel are limited with every company," said Zhang. "The TSL system has been really stable. It's been running for two years, and so far I haven't had any problem with TSL equipment."
Phase II
"TJ Sports Broadcast Production Center is now undergoing the second phase of construction, and we're sticking to TSL. TJ Sports Broadcast Production Center Phase II will abandon the traditional baseband infrastructure by getting rid of the concept of studio and control room clusters. 
Instead, it will implement IP-based production island cluster, connecting via ST2110 signal delivery. We'll see what TSL is capable of managing thousands by thousands of AV matrices," Zhang concluded. "We're going to give full play of the innovative spirit of eSports and work with TSL to pioneer this world-leading cluster."