A UNIQUE PRODUCTION ENVIRONMENT
There are few sectors of the production industry as technically demanding, and few environments as highly pressured, as outside broadcasting (OB), with the demand to cover programmes comprehensively, creatively and to the highest quality standards.
In this fast-paced environment, it is essential that broadcasters have reliable, flexible tools that fit seamlessly in to their operations and offer ease of use and familiarity as personnel shift and move between productions, tools that will:
Support the full variety of challenges that OB's face on a day-to-day basis.
Offer critical quality control throughout the whole production process.
Allow OBs to deliver the best audio and video quality for their customers and viewers.
When tasked with the production of a signature event, every step of the process must be planned carefully, and every piece of gear must be thoroughly evaluated. From the camera operators to the audio engineers, everyone needs to be working in harmony yet independently, with everyone being in total control of the technology they are responsible for.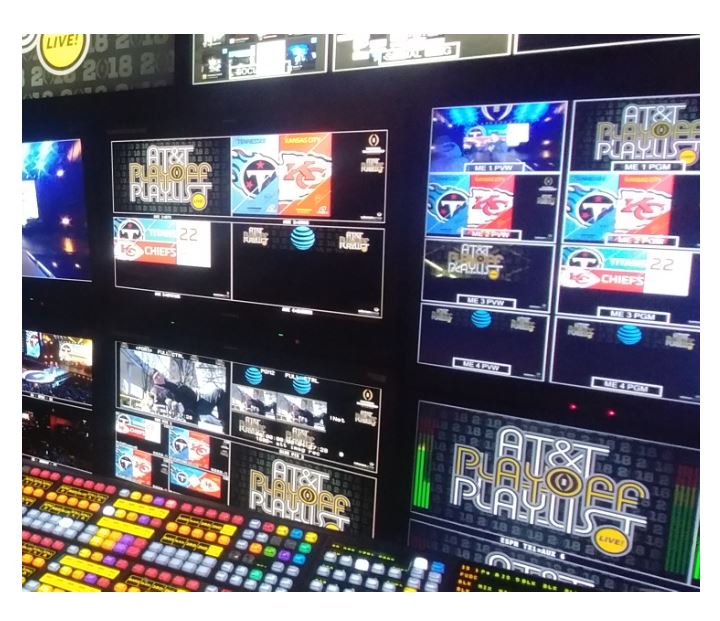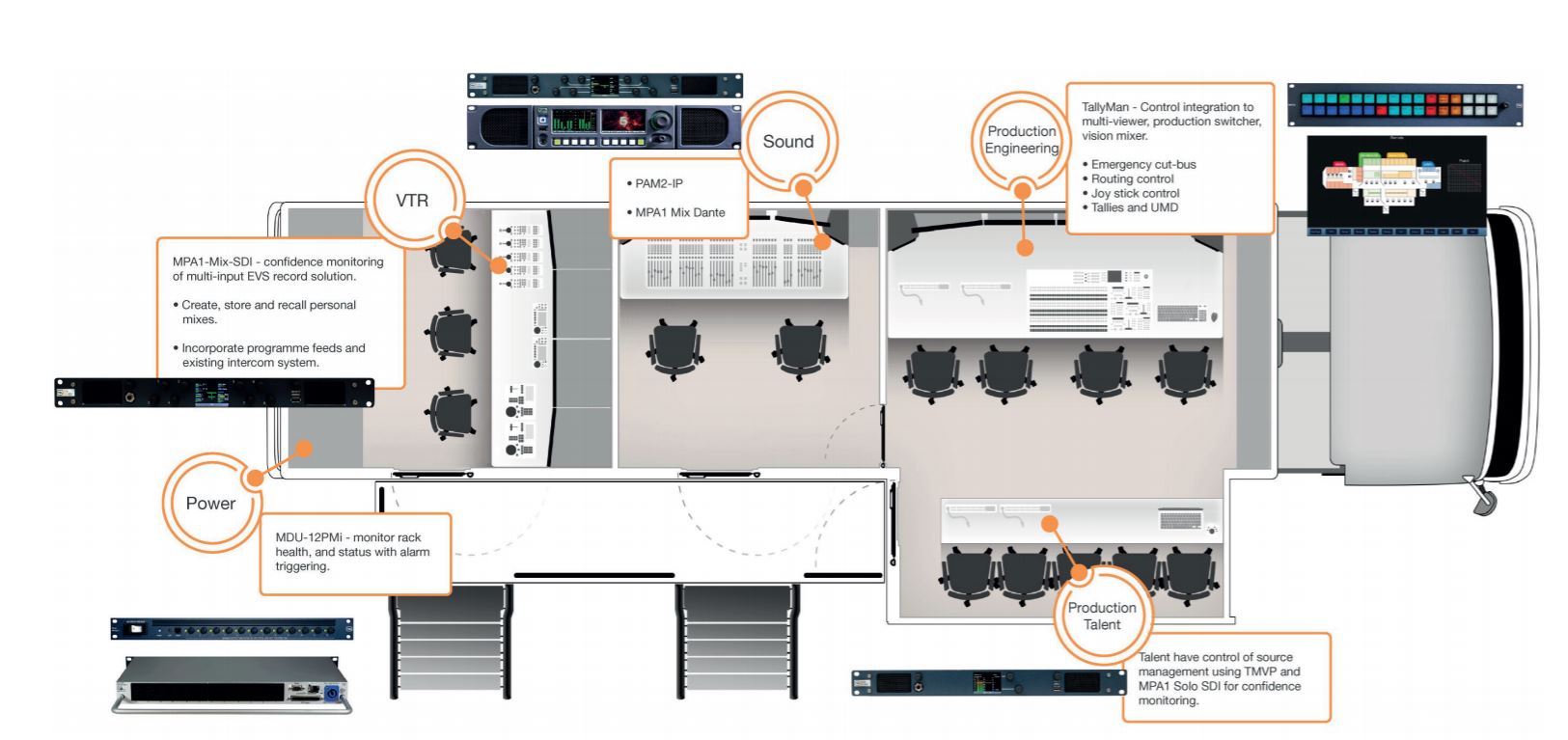 A CLOSER LOOK AT CONTROL AND AUDIO SOLUTIONS FOR OB TRUCKS
When operators sit down at the beginning of a live event, it is important for them to remain focused on the job at hand. As truck builds become more and more sophisticated, being right on the front line, it is essential that OB's have the confidence in their audio feeds. By offering the right tools, TSL can help make the process even smoother.
---
MANAGING MULTIPLE STANDARDS:
A production recorded in multiple formats, with differing configurations, feeding multiple networks, demands flexibility.
---
EASING COMPLEXITY:
Tools that allow for different levels of interaction, control and working preference means production staff are free to focus on the task at hand.
---
MAINTAIN ENGINEERING EXCELLENCE:
Engineers and Operators working in demanding environments need comprehensive tools that will allow them to do their job.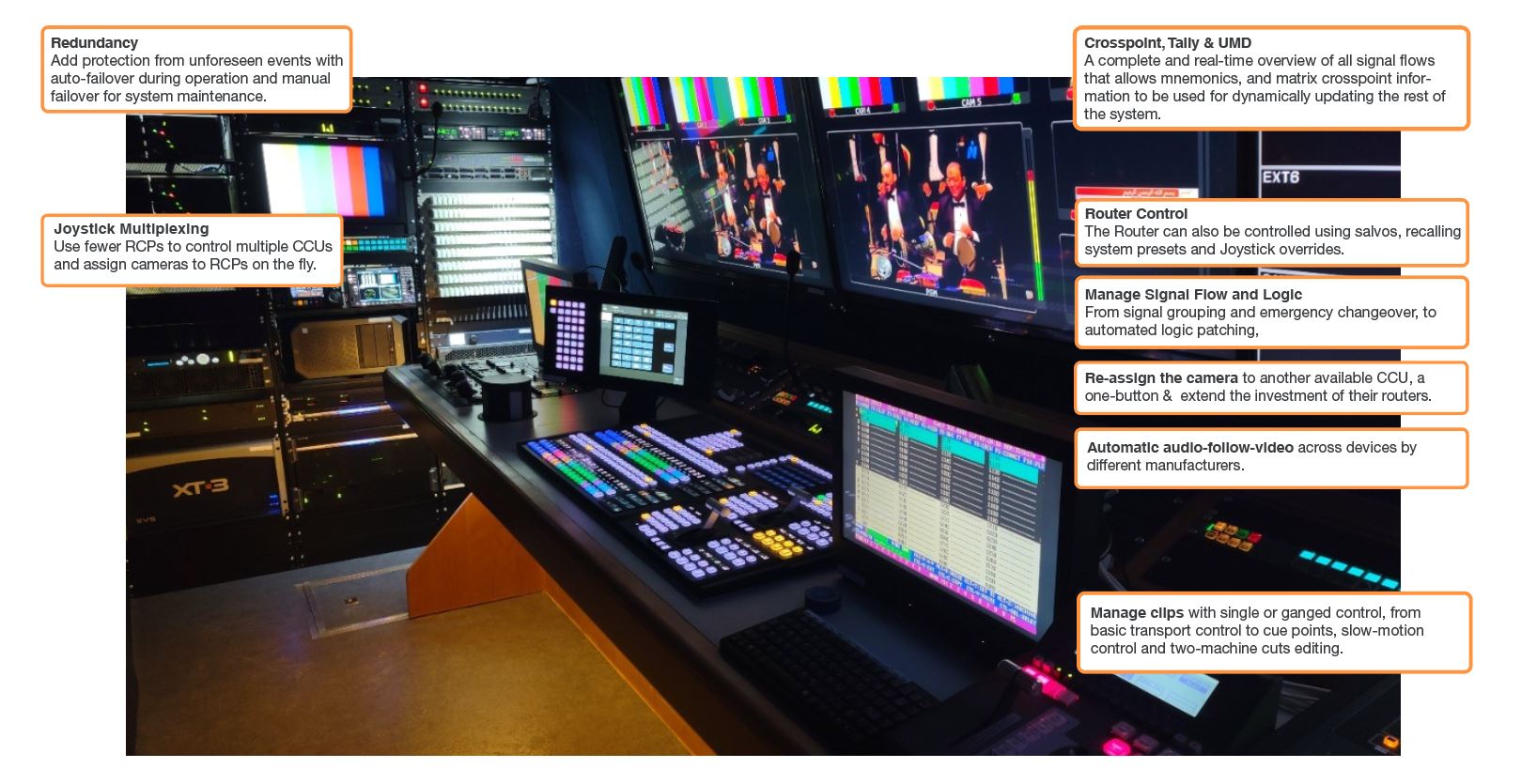 AUDIO MONITORING WITHOUT COMPROMISE
All too often, audio monitoring units can fail to satisfy the requirements of both Engineers and Operators. A well-equipped, feature rich and powerful audio monitor designed for the most demanding user or application can often prove too daunting or unnecessarily difficult to use for those who simply need to select and hear the audio they need
When production staff, many of whom may be freelance, prepare for a show or event, they often have little time to invest in familiarising or re-training themselves with the equipment they are expected to work with. With an audio platform designed to allow for different levels of interaction, control and working preference, production staff are free to focus on the task at hand. From the simplest of operational modes, offering no audio level metering or measurement, to the most detailed of operational modes for the most demanding audio engineer.
Every person, production, environment, operation and application is different, universal tools no longer work and versatility is key.
---
PAM-IP
PAM-IP - As well as the ability to subscribe to both audio and video essences, the PAM-IP also provides 'in-band,' 'out of band' and manual control methods for managing flow subscriptions.
READ MORE >
---
NEP US STORY
When TSL introduced its new MPA1 V Series audio monitor, designed to directly address the needs of those in live production, NEP was the first to realise the benefits and place its order.
READ MORE >
---
SAM-Q PLATFORM
Determine how you wish to control and visualise your audio content based on application, environment or simply personal preference.
READ MORE >