7 PRODUCTION
Originally established in 2007, 7 Production began in Dubai, and now has offices in Abu Dhabi, Riyadh, Jeddah, Lebanon, Finland and the UK. 7 Production has a reputation of being the region's premier innovator of market-leading 4K and HD Broadcast solutions and Live technical Event support to the most prestigious broadcasters, production companies, event organizers and government entities.
Customer Requirements
7 Production required a complete Broadcast Control System for their 4K OB Truck to control all devices, including Vision Mixer, Routers and Multiviewers. They were also in need of installation and commissioning. They placed their order through BSS Dubai, trusted System Integrators of TSL Products. 7 Production used TallyMan as their main control system, and Tally Management for the
OB incorporating all signals and signal chains within the system.
In this fast-paced environment, 7 Productions required control and tally tools that are reliable, flexible and that can fit seamlessly into their operations. TallyMan is a problem solver product and has proven time and again to be versatile enough to make it the solution to the many hurdles broadcast production can throw up.
"The system is robust and competitively priced," says Tony Jabbour, Head of Engineering and Operations at 7 Production, "It is not overly complex compared to other control systems and we
have great support from the TSL Team. In addition to this, all our engineers are familiar with TallyMan as we use it in all our remaining OB Trucks, making our lives much easier!"
As a control system that includes protocols native to all the major manufacturers, TallyMan is a great advantage to any customer, providing all third-party protocols within the system controller, allowing
unlimited connections can be made to third party equipment for control and monitoring.
A Control System Designed for 7 Productions
TallyMans open APIs and powerful configuration capabilities allows 7 Productions to solve everyday workflow issues and link of multiple systems, bringing together the interface to kit from Grass Valley,
LAWO and more:

Kahuna 9600 Production Switcher – Full reading of crosspoint, mnemonic and tally data to provide real-time signal flow information and update all other device statuses dynamically. The user can also
create their own custom labels, import button labels from router mnemonics and change button labels on the fly.
Sirius 800 Router - TallyMan provides a complete and real-time overview of all signal flows that allows mnemonics, and matrix crosspoint information to be used for dynamically updating the rest of the system. The Router can also be controlled using salvos, recalling system presets and Joystick overrides.

Lawo MC2 36 - Ember+ provides TallyMan with external control of the matrix, fader gains/labels and events within the MC2. The device also provides a Quartz interface to control upstream routers, that can be used by TallyMan to be communicated to the Sirius router, ensure system-wide integration.

Snell MV Series Multiviewers - Using the dynamic information from the Kahuna 9600, the Sirius 840 and additional internal system logic, the TalllyMan provides instant updates of signal flow from any
position in the system, On Air indications, mnemonic/naming information, preset indications as well as System alerts and alarm indications.
Cost-Benefits of the System:
As a unified control system, TallyMan delivers 7 Productions with both capex and opex savings and sits equally comfortably within a traditional environment, a software-defined architecture, or a hybrid transitional system.

Also, by putting just the appropriate amount of control in the hands of the operator, 7 Productions can minimise reworking through errors to improve system reliability, support system expansion, and simplify system maintenance while minimizing short-term and long-term cost of ownership.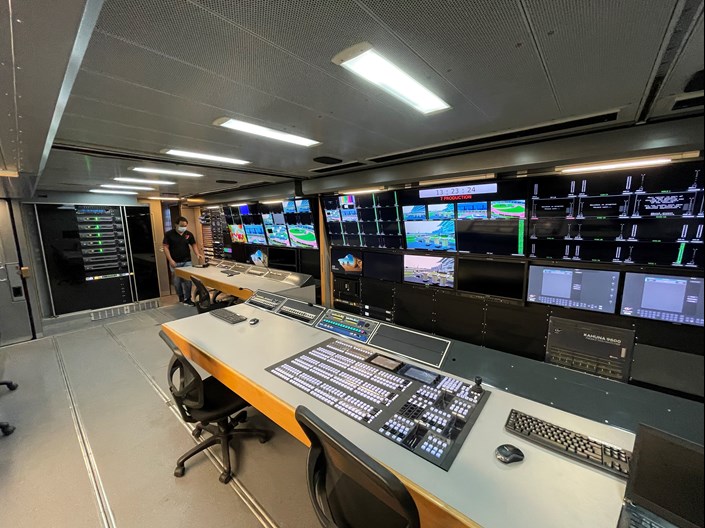 Under the Hood
Products Purchased:
x2 TM1-MK2+ (System Controllers) x1 Watchman Redundancy Package
x1 ESP-1R+ (GPIO expansion unit used with watchman as hardware for failover redundancy)
x1 TMCP-48 (48 button Control Panel with rotary encoder)
x2 TMCP-32 (32 button Control Panel with rotary encoder)
x6 TMCP-16 (16 button Control Panel with rotary encoder) x2 Ember+ Licenses
x1 TMVP Licenses
x1 FlashBoard License (Optional Technical Signage)