Bring System-Wide Control Down to a Single Button Press
Production facilities contain more disparate technology than ever before and all these systems need to be networked, managed, and controlled in fundamentally new ways.

Many Houses of Worship also need to find ways to maximise these assets alongside the ability to hide increasing system complexity from operators. Many AV facilities rely on out-source operators to support productions.

They need enhanced scalability, highly reliable performance and the ability to fit together ageing systems.

Gain the control you need suited to your specific workflow.
Maintain the autonomy needed to have complete ownership of your systems.
Deliver professional output without the need to invest in technically advanced engineering teams.
Give operators the power they need to make productions happen.
By deploying a control system in a modularly resistant manner, a House of Worship production can each have dedicated local intelligence to manage local devices, operating entirely independently of each other, whilst communicating status and sharing resources across facilities, and are quick and simple to implement.
Problems Solved:
Control projectors and trigger a whole range of kit, including recorders.
Manage all communication protocols and methods right there in one system.
Assign the video and audio inputs and then trigger the remote-control ability.
Provide status updates along the way to confirm that the recordings were completed successfully.
Dilute multiple tasks down in to one adn remove manpower issue of having personnel in place at each location.
One easy-to-use, affordable solution, to allow a quick way to accomplish your goals.
IP Control Buddy
TSL's IP Control Buddy is a powerful yet compact control system that can be used either as a standalone product or can be integrated with a larger third-party control system, offering a flexible solution for house of worship facilities.
The cost-effective solution can control any GPI/O-, Serial- and IP-enabled devices located anywhere, from a single button push.
Scaling from one to four buttons, the IP Control Buddy can perform simple 'on/off'-style actions or trigger complex salvos, and its compact size makes it perfect for flyaway kits and quick-press production tasks.
The IP Control Buddy can simultaneously control multiple devices and is powered by either Power over Ethernet (PoE) or an external power supply.
As a small but powerful solution, the IP Control Buddy can directly control other devices, such as Ensemble Designs' ultra-compact BrightEye NXT routers, Blackmagic Media Players and Power Distribution Systems.
With a 'programmer-free' web-browser, it's easy to configure the IP Control Buddy for any control and monitoring application.
IP Control Buddy features a Panel Key Mapper, which can be installed on Windows, enabling the system to remotely execute keyboard shortcuts and trigger common HotKey combinations for editors, production playout automation and other Windows applications.

Universal Control Panels
'Plug & Go' Integration - Able to perform powerful actions without the need to invest in a system controller, universal control systems can quickly and cost-effectively plug in to any infrastructure or workflow.
Bridge systems to achieve that key bit of functionality required without performing any programming.
Adapt and extend systems as control requirements change.
Avoid being locked in to expensive and complex control solutions.
Give operators the controls they need over the devices they use.
Maintain the value of existing investments by interfacing between old and new equipment.
Find out how Central Christian Church uses the IP Control Buddy to manage its production
TSL Products' USP3 panels provide a streamlined user interface with single panel monitoring and control of multiple devices. These universal control switches are ideal for users who need to interact quickly between active sources and/or when multiple switch commands must be activated simultaneously, such as during live projects.
In order to optimize operator workflow, USP3 panels show users only the device or system information, status and tallies they need in order to work efficiently and accurately. This  simplifies operations and reduces human error, which is beneficial for house of worship applications working with volunteer operators and less technical staff. TSL's USP3 can monitor and control multiple devices from a single panel while allowing for the easy creation of multi-action commands (macros) with a single push-button command. There are three variations of the USP3; the USP3-16, the USP3-8D and the USP3-SHOTBOX. The main difference between each variation is the number of pushbuttons and GPI/O inputs each panel has, which allows customers to pick the solution that best fits their specific needs. The USP3-16 features either 8 or 16 LCD push buttons with 16 GPI/O inputs, the USP3-8D features eight LCD pushbuttons and 8 GPI/O inputs and the USP3-SHOTBOX features 30 LCD pushbuttons, 16 pushbuttons and 8 GPI/O inputs.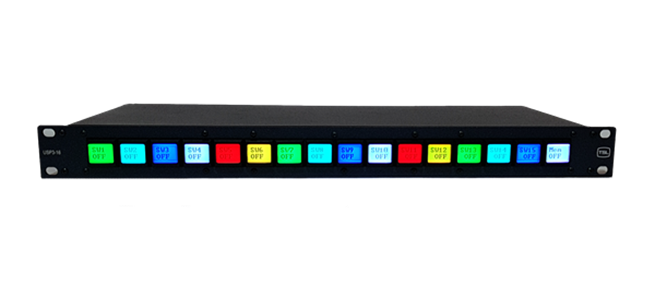 System-Wide Routing and Device Controls
For larger houses of worship and megachurches, TSL's TallyMan advanced broadcast control system is an ideal solution as it offers an efficient and powerful control engine. From signal routing to remote device control, TallyMan groups multi-level actions into a single, user-configurable interface, allows productions to run more efficiently.
The system provides only the necessary controls, from simple interfaces for specific tasks, to unleashing the full power of a system built on logic-based and an open control layer, allowing customers to maintain complete ownership over their systems.
TallyMan can be integrated with any new or existing third-party system, further increasing the flexibility of control
By deploying a control system in a modularly resistant manner, a house of worship production can have dedicated local intelligence to manage local devices, operating entirely independently of each other, whilst communicating status and sharing resources across facilities.
Additionally, TallyMan allows production values to increase and reduces the possibility for human error by minimizing the complexity of operations.
To further enhance the operator experience, the TallyMan system features Virtual Panels (TMVP). These software-based control surfaces can interface to any control system, allowing customers to visualise their workflows in order to effectively and intuitively manage their systems.