Audio monitoring: advancements in Audio over IP
Built on the solid foundation of the flagship PAM Range, our PAM1 IP and PAM2 IP units are now suitable for use in both traditional broadcast infrastructures as well as COTS IP networks. At IBC, the PAM-IP successfully demonstrated the same features, functionality and user experience currently enjoyed by existing PAM1 and PAM2 users, with both SDI sources and 2022-6 multicast streams.

As well as demonstrating both SDI and 2022-6 sources, visitors to the stand could see how favourite 2022-6 multicast stream addresses could be assigned to use defined pre-sets, thereby allowing the PAM-IP to switch between multiple 2022-6 sources directly on the front panel with a simple button push.

Visitors could also see the latest updates to our Dante products, including the PAM1-IP and PAM2-IP units, which are now AES-67 compliant. Visitors were able to listen to AES-67 audio streams generated by a Ravenna/AES67 device courtesy of TSL's MPA1 Dante audio monitors. Further demonstration of TSL's commitment to supporting SMPTE 2110 networks. As the move to uncompressed audio and video over IP networks remains a hot topic, we successfully demonstrated that our products are being developed in response to what is arguably the most significant change in broadcast infrastructure the industry has ever seen.

This commitment to supporting new and existing infrastructure types is a key feature of our AMUs, and helps customers navigate the transition to IP at a pace that suits them. We are dedicated to serving existing and future facilities and this is why our IP roadmap aligns with that of AIMS and the adoption of open standards.
Still providing support for SDI
IBC 2017 was also the European debut of the MPA1 SOLO SDI, which was received extremely well. Customers love the ease of use and the ability to modify the behaviour of the unit by way of a web-page and there is a high demand for monitoring units that can support an established SDI infrastructure.
The MPA1 SOLO SDI was also on display in the new OB 4K/HDR built by Broadcast Solutions Italy for production media comany Cinevideo.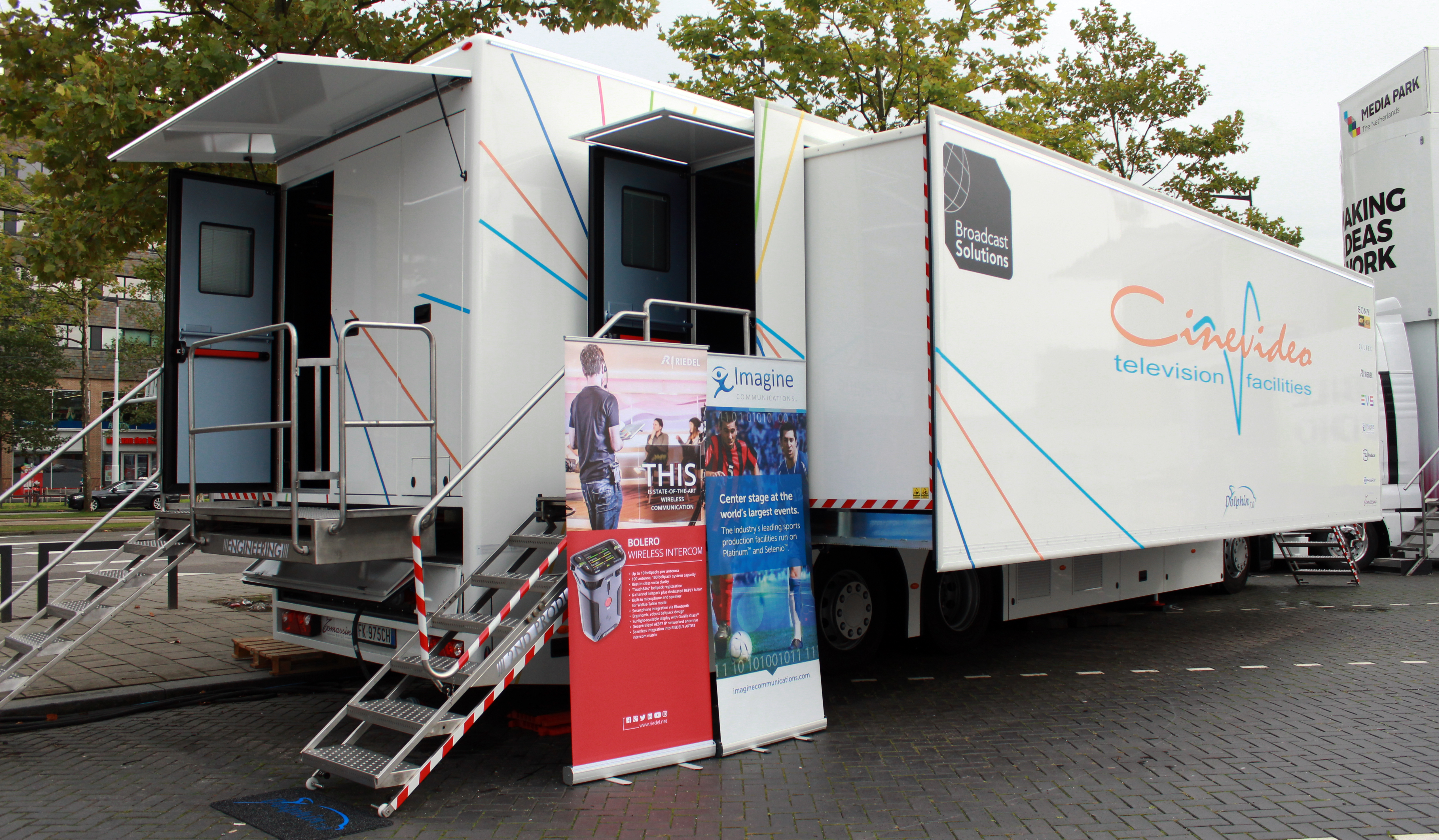 Remote Broadcast Studio Control via TallyMan
TallyMan has developed in to a system that is capable of so much more than Tally management, and this was evident from the display that we had on the stand at IBC 2017. The set up demonstrated third party interfacing and control to a range of devices, including audio processors, switchers, routers and cameras, including tally control on the LDX87, GrassValley's most hi-tech camera, controlled over an IP network on the stand.
To further enhance our control offering, we were also showing our new FlashBoard Technical Display System, recently purchased by the Chinese Sports Media to allow them to keep track of studio activity in real time. Displaying clocks, timers, multiple time zones, web pages and branding, the FlashBoard system works as a standalone product or can integrate with TallyMan, or any other third-party control system to better coordinate and organise production workflow and deliver essential operational information.
When we talk to customers around the world, they want to be able to implement solutions which are carefully tailored to their specific needs, but which can be delivered quickly, cost-effectively and flexibly. Our unique independent position in the industry and our adoption of open standards means we are ideally placed to deliver the Control Systems layer that allows our customers the freedom to choose best fit, best of breed equipment and thanks to support from Canon, Riedel, Jünger Audio, Grass Valley, SAM and Sony, we were able to demonstrate this capability at IBC.
Facility-Wide System Management
Our MPA1 Audio range now feature SNMP connectivity as a free upgrade to any existing user. This means that these devices can now be controlled remotely using TallyMan, and its power and performance monitored via our InSite Power Management system. For engineering monitoring of system usage and status data with logging and reporting, InSite supports SNMP and Modbus whereby concentrated status reports can be designed for senior supervisors as web dashboards and alarms can be set to be sent via email or SMS. InSite maintains a full audit trail of all monitored information for trending analysis.
With practical solutions designed for now and tomorrow, we aim to build trusted partnerships that allow us to provide solutions that support our customers and allow them to concentrate on producing great content while we take care of the complexities of an industry in transition to IP.
Our products will be on display again at NAB New York, Broadcast India and NAT Expo in Russia throughout October, as well as CabSat, BVE and NAB moving in to the New Year.