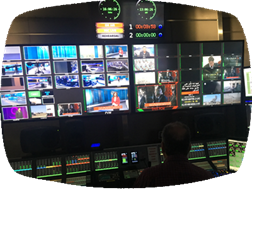 IN SYNC: AL JAZEERA STREAMLINES INFORMATION FLOW WITH IDS
Al Jazeera has been upgrading its worldwide facilities over the last five years. As part of the final stage of the upgrade at its Doha headquarters, TSL Products' Intelligent Display System (IDS) was installed by Sony, the System Integrator on the project, for the launch of the new Arabic studio and facilities in November 2016.
Traditionally broadcasters have used a combination of separate clocks, tally lamps and production timers to aid the production of programmes. The IP-based Intelligent Display System (IDS) was conceived to bring all these functions together onto a single system, using TV displays and dedicated touchscreens to display clocks and timers with dynamic information to better coordinate and organise production workflow.
Initially developed and deployed to ensure that staff in the gallery were in sync with the studio talent, IDS has since developed into a sophisticated and powerful way of disseminating accurate and timely information across a whole facility.
Al Jazeera had originally planned for separate clocks and production timers for the gallery. However, TSL Products approached the technical team to introduce IDS which, they quickly realized, would be a cost effective, flexible and future-proof communication solution.
Bringing information to all
"The main idea behind the installation was for easy information-sharing across the galleries; to monitor the status of the studios, whether live or in rehearsal mode; to indicate which productions were taking place in the studios; and what was required in the newsrooms," says Ali El-Husseini, Head of Network Operations Standards, Al Jazeera. "With IDS, you can start out small and expand as your needs increase, or when you realize how much more it can do. You can then build the system that fits your requirements as needed."
IDS makes it easier to control various features from one control panel, and different departments can control the content that is beneficial to them. Information can be updated as required and made instantly available to everyone where screens are installed. Operators can also customise the displays easily to their style and needs, so a variety of information can be displayed.
In addition, the system allows for integration, content management and information sharing. Information can even come from a 3rd party, which can then be shared on the IDS devices.
An evolving solution
El-Husseini particularly appreciates the adaptability of IDS. "Because the system is so flexible, you can have multiple elements available in one screen. If you add multiple screens you can display information not only in the galleries but also within the newsroom or studios for staff to monitor," he says. "Although the galleries are currently the only areas whereby the system is installed to reflect clocks, production timing, and tally status, it has proved so useful that we are already planning to expand on this so that production information can also be made available." The same will apply for the newsroom areas, which will be able to monitor content related to the newsroom.
With a smooth installation and plans for expansion already in place, the relationship between Al Jazeera and TSL Products remains strong. El-Hussaini concludes, "It is always a good experience working with the TSL team as they are consummate professionals. We are very pleased with the IDS installation which has made a significant difference to our facility-wide communications."